PAGE SIX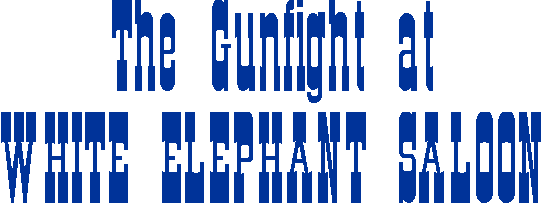 by Jerry Adams copyright © 1997

THE TOKENS:

GOOD FOR / 5 ¢ / IN TRADE / WHITE / ELEPHANT / B & B . / FT. WORTH

THE / J. M. BRUNSWICK / AND / BALKE CO / (BILLIARD TABLE)

brass - round - 24mm (circa 1885, estimated value: $250; estimated 1-2 known) (reverse: BB-7a )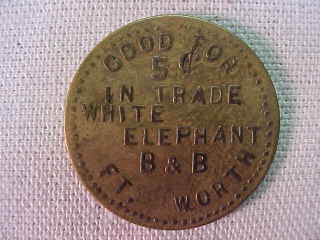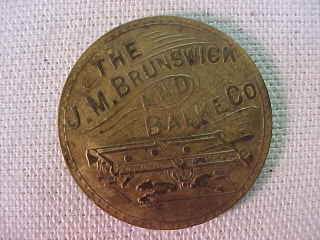 WHITE / (ELEPHANT) / FORT WORTH / TEXAS
GOOD FOR ONE DRINK / 15 / CENTS
white metal - round - 25mm ( circa 1885-1900, estimated value : $350 ; estimated 6 -12 known; values are very subjective on both tokens)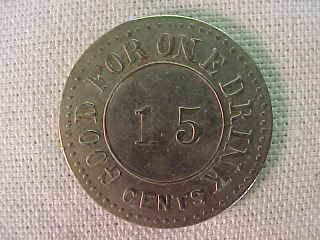 Both tokens are listed in the 1973 TAMS supplement on Texas tokens by Fowler, Strough and Roberts. Neither token is listed by B. P. Wright in his 1901 listing of tokens. The B & B. on the Brunswick Balke token represents the owners in 1885, Burgower and Bornstein. The white metal token is lightly struck on the reverse center, and the lettering on each side is rather crudely aligned. The diework of the elephant pictorial is very similar to the white elephant token from San Antonio (also see Wright #1231).
THE WHITE ELEPHANT SALOON:
"When the Elephant I had seen, I'm damned if I thought I was green; and others say both night and morn, they saw him coming around the horn." --from a play about the California goldfields by David G. Robinson, circa 1850
The prevalence of late 1800's saloons that went by the name of "White Elephant," is something of a mystery. Perhaps it is a result of the 19th century cliché "seeing the elephant," which was in wide spread use in the West following the civil war. This simply meant that a neophyte traveler had been somewhere far away and seen something known only to the experienced traveler. Also the question often arises of "Why was it called the WHITE elephant saloon?" The reason for the prevalence of pale pachyderms seems equally lost to history, but several possible reasons are quite plausible. One was that white paint was readily available and the symbol painted on the windows and fronts of the buildings made an eye catching graphic. Also the word "white" would warn all Negroes away in a segregated frontier. Conversely, many towns including Ft. Worth had a Black Elephant Saloon, whose clientele was limited to the black population. White Elephant Saloon tokens are known from many other Texas towns, including Austin, San Antonio, Denison, Mobeetie, Panhandle, Fredricksburg, El Paso, and Lampasas. Other states also had their share of saloons under the sign of the white elephant: Butte, Montana, Bingham Canyon, Utah, Eagle City, Idaho, and Albuquerque, New Mexico to name a few.
THE FT. WORTH WHITE ELEPHANT SALOON:
The history of the White Elephant Saloon in Ft. Worth spans from 1884 to about 1914. It was located at two different spots on Main Street during that time, first at 308-310 Main St. and later at 606-608 Main St. The first White Elephant in town opened in 1884 by F. A. Bordodino, and was closed later that year, due to his financial mismanagement and legal proceedings brought by cattleman W. F. Lake. In 1885, three Jewish entrepreneurs bought the White Elephant, which was a saloon, billiard parlor and restaurant. The three were Gabriel Burgower, Nathaniel Bornstein, and Samuel Berliner. It was listed for the first time in the city directory in 1885 as G. Burgower & Co. Berliner was a silent partner, living in San Antonio and contributing only capital to the venture. Burgower and Bornstein were the two who took care of everyday operations, Burgower was the saloon man, and Bornstein ran the restaurant. The location of the saloon at 308 Main Street was in the "nice" section of town, away from the less savory characters who inhabited Hell's Half Acre. The "Acre" encompassed the Third Ward, and ran from 9th to Front streets, and Jones to Throckmorton streets. The saloon was open 24 hours a day, as was the custom in those days. A general description of the building can be pieced together from contemporary written accounts, as no photographs are known to exist. It was a two story structure, most likely two buildings side by side with a connecting doorway, one housing the saloon, the other the restaurant. The saloon had cigar and shoe shine stands, the main bar, and billiard tables downstairs. The gambling concession and "bank" was upstairs over the saloon, and included Faro, keno, monte, roulette, and poker tables. The long solid mahogany bar complete with brass fittings was the main focus of the ground floor. Behind the main bar stood a mirrored back bar that sported gas light fixtures, onyx columns at each end, and shelves of bottles and decanters. The best of liquors, wines and cordials were there in addition to a wonderful array of imported and domestic cigars. The restaurant served all the most popular fare, including oysters and fresh game. Transoms above the doors, and windows furnished fresh air when the weather permitted. Several large iron stoves provided warmth during the cold of winter.
In 1886, Burgower & Co. sold the saloon business to two brothers, William H. Ward and John Ward. John Ward was listed in the city directories as co-proprietor only in 1886, by 1888 he was working as a druggist. He had quickly lost interest in the saloon business. William (Bill) Ward was on the other hand, a "sport." He had many interests, and besides the saloon business ventured into real estate, baseball leagues, vaudeville, theaters and later movie houses. He knew that the White Elephant could prosper by expanding the gambling operations. Professional gamblers traveled the "circuit," hitting a town for a week or two and then moving on. In addition, many local gentlemen of means would come to a safe clean establishment, if good food and liquors were available, to wager their money on the gaming tables and see the big names. So Bill Ward brought in two big name partners in 1886, Jake Johnson and Luke Short.
Luke Short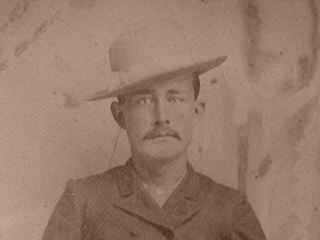 age 23
Luke Short was a friend to such westerners as Bat Masterson, Dick Clark, Wyatt Earp, and Doc Holliday. Short had met Earp, Holliday and Masterson in 1881, when all four had worked in Tombstone's famous Oriental Saloon as house dealers. In 1882, Short was in Dodge City's famous Long Branch Saloon working for Chalk Beeson and W. H. Harris as gambling concessionaire, and even bought a half interest in the Long Branch in 1883. After his run-in with the authorities in the "Dodge City War" (see the article on "The Long Branch Saloon" by John Staggs in August 1987 TAMS Journal), he headed south. Short was about to cross the path of another western legend by the name of T. I. Courtright.
Timothy Isaiah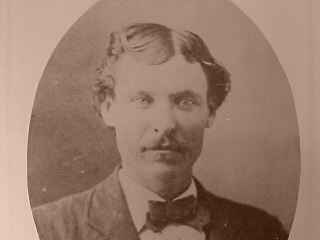 Courtright
Timothy Isaiah Courtright ("Longhaired Jim") was born in 1848 in Iowa, fought for the Union in the Civil War, and drifted throughout the west. He worked as a buffalo hunter, army scout, volunteer fireman, sharpshooter, and was (allegedly) for a time the Marshal of Omaha, Neb. He married a girl eight years his junior, named Sarah Weeks, and taught her how to shoot. They performed shooting exhibitions for money, some say even performing with Buffalo Bill's Wild West Show. Jim Courtright wore his hair long, as many ex-army scouts, and carried two six-guns, butts forward in showman style. They had arrived in Ft. Worth in 1876, and he ran for city Marshall against four other men, winning by only three votes. He held the Marshal position until 1879, when he lost his third election. Seeking a paying job, he moved to New Mexico (leaving his family in Cowtown) where he worked as Marshal of Lake Valley, New Mexico, then as a hired guard for a mining operation there. Later, still in New Mexico, while working as a "ranch foreman" he and his friend Jim McIntire shot to death two squatters who had refused to leave the ranch. By March 6, 1886, Courtright was back in Ft. Worth, having been acquitted of all charges stemming from the killings.
THE GUNFIGHT:
In February of 1887, Courtright, the ex-Marshal and celebrated pistoleer, had returned to Ft. Worth and set up the T.I.C. Commercial Agency, which is believed to have been a front for his racketeering activities. Then at about 8 PM on February 8, 1887, while acting (so it was claimed) on behalf of certain businessmen who objected to the gambling at the White Elephant, Courtright confronted Short inside the saloon. Also present in the White Elephant upstairs club room that night, was Bat Masterson, who later wrote of events that transpired. Courtright was accompanied by his partner, Charley Bull. Courtright demanded money from Short, for protection, and Short refused to pay. Courtright insisted they move their conversation from inside the saloon into the street. They walked down the street together, exchanging words until they were just in front of Ella Blackwell's shooting gallery, when both men went for their guns. Short fired five shots into Courtright's body before the ex-scout could return a single shot. Courtright fell backwards, half in and half out of the shooting gallery doorway, and clung to life until a city policeman named John Fulford arrived. Fulford found Courtright lying on his back, gasping for breath, and heard his last words: "Ful, they've got me." The entire episode had transpired in only a few minutes. Short was put in jail overnight, then released and never brought to trial. The same gunfighting tactics had been used by Short before when he shot Charlie Storms in Tombstone. He lured the opposition into a darkened street in front of a popular saloon, getting in close and pumping the other man full of holes before he could fire a shot. Longhair Jim Courtright was buried in Oakwood Cemetery.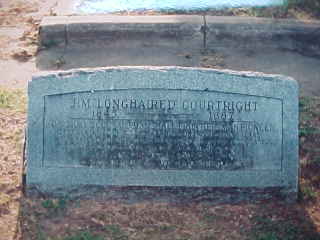 tombstone of T. I. (Jim) Courtright (Ft. Worth, Texas)
On December 23, 1890, Short was in another gunfight with a man named Charlie Wright, who ran the gambling concession above the Bank Saloon at 1608 Main Street. This time the outcome would be different. Charlie Wright blasted his shotgun into Short's back and side before Luke fired his "hideout" gun into Wright's wrist. Both men survived the ordeal, but Luke didn't have much time left. All the hard and fast living seem to have caught up with him. Short lived in Ft. Worth for the last two years of his life, and died from "dropsy" at age thirty-nine, in a resort in Geuda Springs, Kansas on Sept. 8, 1893. "Little Luke" Short had bought a plot and stone in Oakwood Cemetery and was buried there not far from Courtright's grave. "Longhair Jim" seems to have tolerated Luke's proximity better in death that he did in life.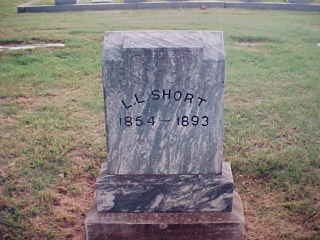 tombstone of Luke Short (Ft. Worth, Texas)
The White Elephant continued its successful operation as a saloon, restaurant, and gambling club room, until just after the turn of the century, although in 1896 it moved south on Main to the 600 block. It continued to grow and at one point stretched from 604 to 610 Main at that location. Gambling was still an important part of this saloon's income producing activities, and the gambling now including such technically illegal activities as cock fighting. The public opinion of a city that was shedding the rowdy image was catching up with all local saloons, however. In 1889, an ordinance was passed prohibiting saloons from opening on Sunday. The prohibition movement was building steam during the closing of the 1890's. By 1913, the Anti-Saloon League of Texas was a well organized and funded group, whose sole purpose was to see to demise of saloons statewide. The passing of the famous White Elephant Saloon of Ft. Worth was an unheralded event. It passed into the history books without a whimper around 1914, still at the 606 Main address.
EPILOGUE:
In the 1970's, the name was resurrected, when a new White Elephant Saloon opened on Ft. Worth's North side in the historic Stockyards District. Each February, on the eighth, the famous gunfight of Short and Courtright is reenacted in the street in front of the new White Elephant.
references: "Hell's Half Acre" by Richard F. Selcer, "Knights of the Green Cloth" by Robert DeArment, "Rowdy Joe Lowe" by Joseph G. Rosa ; Luke Short, by Wayne Short, Devil's Thumb Press, 1996; Longhair Jim Courtright by F. Stanley
on to page 7 of our token web pages...
updated 5 feb 2000