PAGE SEVEN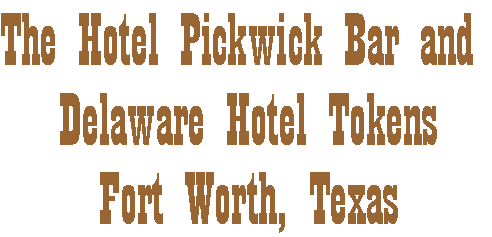 by Jerry Adams copyright © 1998
GOOD FOR / ONE / AT / HOTEL PICKWICK / BAR / DRINK
THE J. M. BRUNSWICK / & / BALKE COS / (BILLIARD TABLE)
white metal - round - 25MM (circa: 1885; BB-8a reverse; estimated value: $150, 1-2 known)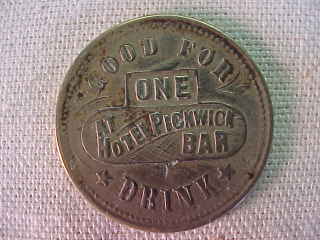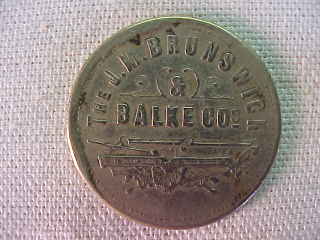 This token is listed in the February 1979 Supplement to The Trade Tokens of Texas, by Fowler and Strough. It is not listed by B. P. Wright in American Business Tokens. It is listed as number 2172 in "The Brunswick Token Story" 1977 TAMS supplement.
DELAWARE HOTEL / 1 / DRINK / FORTWORTH, TEX.
(uniface)
brass - round - 27mm (all letters raised on sunken field except "1", which is incuse) (circa: 1895-1907; estimated value: $150-$170 ; 3-5 known)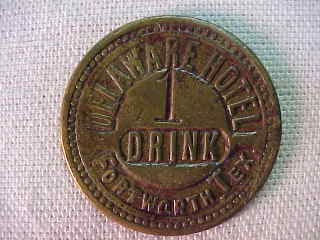 This token is also listed in the Feb. 1979 Supplement by Fowler and Strough. It is not listed by Wright.
408-414 MAIN STREET:
The northwest corner of Fourth and Main streets in Ft. Worth was the site of the El Paso Hotel which was built in 1877, and many famous names crossed its threshold, among them Sam Bass, famous outlaw who later died at Round Rock, Texas during a bank robbery. In 1885, it was known as the Pickwick Hotel. By 1898, the name had changed again and it was now known as the Delaware Hotel, a name it retained until about 1907. The same location was the site of the Westbrook Hotel, which stood at the location until the mid 1960's.
Being curious about the appearance of places that issued tokens is a fairly common for token collectors, and having studied architecture, I am more curious in that respect than most. That's why I was especially pleased to find a postcard showing the exterior of the Delaware Hotel. The postcard view of the Pickwick/Delaware shows a four story masonry building, with a French mansard roof and dormer windows. It also shows an old time barber pole just to the right of the hotel main entry, which agrees with the floor plan on fire maps of the period.
Delaware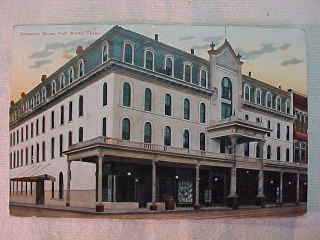 Hotel
The closest I have come to finding floor plans of these pre-1900 buildings, are called Sanborn's Fire Maps. They were made from about 1885 through about 1898. Most of these maps show a rough plan of each building in the downtown area, with various notations originally drawn as an aid in firefighting. The notations of the Delaware Hotel show the relationship of the billiards area to the bar, the barber shop, awnings, skylights, walls, columns, alleyways, loadbearing masonry walls, fire escapes, some doors windows, etc. Perhaps the most historic episode to take place at the hotel, was in 1885, when it was known as the Hotel Pickwick.

CHIEF QUANAH PARKER:
Quanah Parker, was the last big war chief of the Commanche Indians. His mother, a white woman named Cynthia Ann Parker was born about 1827. She was captured by the Commanche Indians in a raid on Fort Parker, Texas on May 19, 1836 when she was nine years old. She was adopted by a Commanche family and married Peta Nocona, a Commanche chief. She had two sons, Pecos and Quanah Parker. It is believed that Quanah was born between 1845 and 1852. He grew up in a nomadic lifestyle with his clan of Quahadi Commanches. He and others refused to accept the Medicine Lodge Treaty of 1867. So Quanah headed for the Llano Estacado (Staked Plains of West Texas near Lubbock) and participated in numerous raids against the whites. Many of these raids crossed the line of protective forts that ran from Fort Richardson to Ft. Bliss. In one of those raids, near the Red River, Chief Bear's Ear was killed, and Quanah was chosen to be chief. In August 1871, General Ranald S. Mackenzie was assigned to punish the Quahadi tribe, only to be foiled when a group of Commanche braves stole all the army horses. That was the kind of warfare the Commanche understood. Quanah and Lone Wolf led 700 Commanche, Kiowa and Cheyenne braves in the Second battle of Adobe Walls on June 27, 1874 (the first battle of Adobe Walls was in November 25, 1864). The battle took place at a remote buffalo hunter camp, north of the present town of Borger, and 20 miles east of Stinnet, Texas. Twenty-eight buffalo hunters and a woman were holed up in a few rough buildings in the Texas panhandle, fighting off the Indian attack. It was here that Billy Dixon made his famous shot that hit an Indian warrior between the eyes at an incredible 1,538 yards with his 50 caliber Sharps buffalo rifle. All was in vain however, and the Quahadi surrendered to the whites on June 2, 1875. The Quahadi Commanches were moved to Indian Territory, and allowed to hunt buffalo in the Texas panhandle during the summer. Quanah himself was chosen as great chief of the tribe about 1877. He made trips to Texas, and to Mexico, and across the eastern and northern states.
Quanah

Parker
QUANAH'S VISIT TO THE HOTEL PICKWICK:
Chief Quanah Parker and his uncle Yellow Bear came to visit Ft. Worth to discuss overdue money from leased tribal reservation lands. The chiefs were to meet with Captain J. L. Hall, who was federal agent for Kiowas, Wichitas and Commanche tribes. They arrived in Fort Worth on Saturday, December 19, 1885, and having learned most of the white mans ways, checked into the most modern hotel in the city, the Hotel Pickwick. Yellow Bear decided to retire early, but Quanah went with George W. Briggs, who was foreman of the Waggoner Ranch for a social visit. Two hours later, Quanah returned to the hotel room, and retired for the evening. In turning off the gaslight, it is speculated either he blew the light out, not realizing the consequences, or he did not turn the valve completely off. Whatever the reason, he awoke sometime later, roused Yellow Bear, and both struggled across the floor, Quanah falling near a window, but both lost consciousness. Almost 13 hours later, the scene was discovered, and Yellow Bear was dead. Quanah survived, but was sure that he would be blamed for his uncle's death. A special delegation from Ft. Worth accompanied Quanah, and Yellow Bear's body back to meet their family and attest to the accidental nature of the death.
EPILOGUE:
Quanah returned to Fort Worth many more times, appearing in Stock Shows, rodeos, and wild west shows, many of which took place in the North Side Coliseum. He was married seven times and had numerous children. He lived another 26 years, dying on Feb. 23, 1911, and was buried in Post Oak Mission Cemetery, near Indianhoma, Oklahoma.
PROPRIETORS & EVOLUTION OF THE HOTEL:
(from saloon listings in Ft. Worth city directories:)
1877 El Paso Hotel, C. K. Fairfax prop., corner Main & Fourth
1878-79 El Paso Hotel Bar, James Conner , corner Main & Fourth
1882 El Paso Saloon, J.W. Ramsey prop. El Paso Hotel
1883-4 El Paso Bar , Volney Robinson, ws Main between Third and Forth
1885 J.M. Huffington , Pickwick, 408 Main
1886-87 S.A. Smith , Pickwick Bar
1890 Day and Maas, Hotel Pickwick, 408 Main
1892-93 Day and Maas , Hotel Pickwick, 408 Main
1894-5 Day and Maas, Main Hotel Pickwick, 408 Main
1895-96 McLean & Mudge Hotel Co., Hotel Delaware Bar
1898-99 Delaware Hotel, nw corner Main & Forth
1902-03 Jesse W. Bicknell, Delaware Hotel Bar, 410 Main
1905-6 Delaware Bar , Watson and Long , nw corner Main & Forth
1907 Long-Evans Co. Delaware Bar, 412 Main
1909-10 New building being erected at 408-416 Main
1916 Westbrook Hotel Buffet 414 Main
references: How Fort Worth became the Texasmost City, by Ron Tyler; The Handbook of Texas (Tx. State Historical Society); various city directories of the city of Fort Worth, Texas
on to page 8 of our token web pages...
updated 5 feb 2000