PAGE 50

By Jerry Adams, copyright © 2001
This story involves the crossing paths of famous Texas outlaw Sam Bass, and my great-great grandfather, Jesse Harvey McBrayer, and a gold coin.
SAM BASS, TEXAS OUTLAW
Sam Bass's main claim to fame, was the robbing of a Union Pacific train in 1877 of $60,000 in brand new 1877 $20 gold pieces from the San Francisco mint that had never been in circulation.
Sam Bass was born on a farm near Mitchell, Indiana on 21 July 1851. He was orphaned before he was 13, and lived 5 years with an uncle. Bass left the area in 1870 and arrived in Denton, Texas in the fall of 1870. He tried working as a cowhand on a ranch south of Denton, but finding that not to his liking, he returned to Denton, and worked odd jobs including jobs as a stable hand, and for the Sheriff as a handyman.
Soon Bass became interested in horse racing, and in 1874 acquired a young horse named Jenny that was fleet of foot, that later was simply known as the "Denton Mare". He raced the horse with much success in the area, and traveled as far south as San Antonio to find races. By 1876, he and Joel Collins drove a herd of longhorn cattle up the trail to Kansas for a group of owners. The two men ended up with over $8,000 in profit after expenses were paid, and they hit all the big gambling houses in Ogallala, Nebraska, and in Deadwood, South Dakota. Soon the money was gone. In 1877, the duo tried freighting, with no success. Soon they recruited several local hard cases, and began robbing stagecoaches. After seven coach holdups and little to show for the sweat, they decided that wasn't worth the trouble.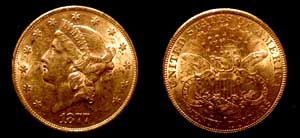 They rode south, by then a group of six men, led by Collins and Bass, and on the evening of 18 September 1877, robbed the Union Pacific passenger train at Big Springs, Nebraska. Their take was an amazing $60,000 in brand new twenty dollar gold coins, that had not yet been in circulation, plus $1,300 in odd cash and four gold watches. (The 1877 twenty dollar gold coins, were all S mint marked from the San Francisco mint, which had been consigned to Wells Fargo and the National Bank of Commerce of New York, they were in a strong boxes on the floor of the express car. To save you the math, that is 3,000 twenty dollar gold pieces at $700 "redbook" each makes $2,100,000.00 in today's coin market) The band split up the loot, and rode in different directions in pairs. Within days, Collins was killed by lawmen. Bass made his escape to Texas good, dressed as a farmer. Upon reaching his Denton, Texas hideout, he formed a new gang.

Sam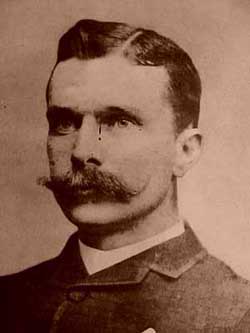 Bass

Back in Denton, Bass set up camp in Cove Hollow, a six-mile long ravine complete with caves, and thick undergrowth. He and his gang began robbing various stagecoaches again. In December of 1877, they robbed a Fort Worth stage, and got on $11. Two months later, another stage robbery gained about $70 and two watches.

In the spring of 1878, the Bass gang robbed four trains within 25 miles of Dallas. The most famous of these was the robbery of the Houston and Texas Central Express train at Allen Station on 23 February 1878, which netted $1,280. They monetary rewards were small (about $1,600 total for the four robberies), and the law was hot on their trail. Texas Rangers joined the search, led by ranger J. Peak. One of Bass's gang was Jim Murphy, who turned informer to the Rangers. He told them of a planned July bank robbery in Round Rock, Texas.

"And so he sold out Sam and Barnes and left their friends to mourn,

Oh, what a scorching Jim will get when Gabriel blows his horn!

Perhaps he's got to heaven, there's none of us can say:

But if I'm right in my surmise, he's gone the other way."

-ballad composed epitaph for Jim Murphy who sold out Sam Bass- author unknown

Sam Bass's gang left their Denton hideout, riding south toward Round Rock, Texas, and the planned bank robbery. Sam spent his last 1877 twenty dollar gold piece in the Ranche Saloon in Waco, Texas.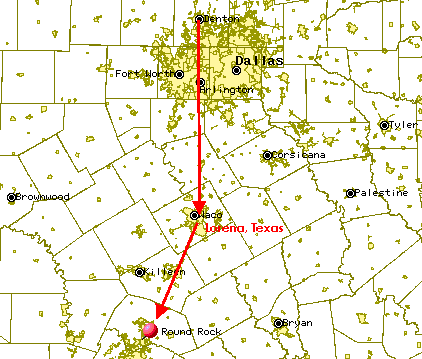 JESSE HARVEY McBRAYER, FARMER

Jesse Harvey McBrayer was the son of Baptist minister Reverend James Madison McBrayer and Betsy Ann Pinkerton (unknown if she was kin to the famous Pinkerton of the detective agency). The Rev. James McBrayer was a respected minister in Lumpkin County Georgia when the American civil war broke out in 1861. The new Confederacy had the full support of all of Georgia, and the McBrayers were no exception. The Rev. McBrayer sent off three of his sons to fight for the Confederacy, Bailey B. McBrayer, Jesse Harvey McBrayer and William Ervin McBrayer. All had joined the Confederate military by spring of 1862. All were enlisted as privates in Boyd's Guards, Company D, 52nd Regiment, Army of Tennessee, Confederate States Army.

They marched off to fight a much better equipped invading army of Union soldiers, and at the battle of Baker's Creek, Mississippi (near Jackson), a Union bullet found it's mark and killed the oldest brother Bailey B. McBrayer on the 16th of May 1863. When the Confederate Army retreated to Georgia, the two younger brothers deserted their posts on the 16th of December 1863, to return to what was left of their home in northern Georgia. General Sherman's march had burned everything of value in northern Georgia, and the McBrayers all escaped over the mountains into Tennessee. Jesse Harvey took an oath of allegiance to the Union on 1 March 1864 in Tennessee. The 26th of May 1865 brought an end to the war with Lee's surrender.

Jesse Harvey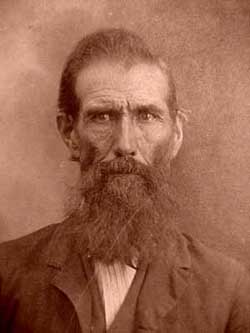 McBrayer

Jesse Harvey McBrayer met a young woman named Nancy Ann Thompson. They fell in love and were married on 13 August 1865 in McMinn County Tennessee. Their first child was born in 1866, and was named James David McBrayer. Their second child was my great grandfather, Jasper Ervin McBrayer, born 29 July 1869. Wishing to escape to a place with more promise, they loaded up a small wagon and moved to central Texas about 1876. They found a spot near the small village of Lorena, Texas a few miles south of Waco, where Jesse Harvey McBrayer bought a 90-acre farm on the northeast side of the town. A small creek named Bullhide Creek ran through the farm. On this land, he would raise cotton, which he sold for 5 cents a pound.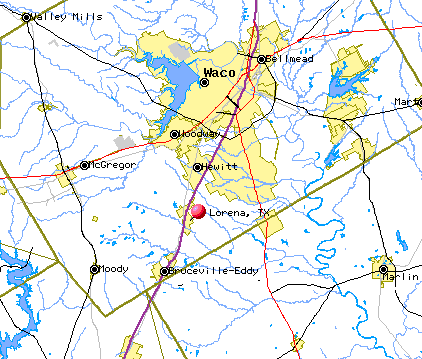 BASS AND MCBRAYER CROSS PATHS
One day in late July 1878, the McBrayer family noticed a group of men on horseback, had camped on Bullhide Creek. A small campfire at night, a smoky campfire in the morning with the smell of coffee, was barely discernable to Jesse Harvey from his farmhouse. Soon, a lone rider approached the house from the creek. The man on horseback was young looking and dressed in a cowboy outfit, complete with six-gun. He rode right up to the house. Jesse Harvey stepped out onto the front porch to greet the stranger. The man told him that they were the Sam Bass gang, and that they would be killing a few of his chickens to eat while camped there. He said not to worry if they heard a gunshot or two. He leaned from the saddle, the saddle leather creaked, and the rough hand of the stranger dropped a small gold coin into the hand of the old confederate soldier. "Here, that should cover it" he said. Jesse rarely ever saw gold coins. As a poor farming family, they lived mostly on vegetables that they grew in their garden, hen's eggs, chickens, and hams. The gold piece and the stranger's story, made a big impression on Jesse, and also on the young Jasper (Jack) McBrayer, who was only 9 years old at the time. He told the story later to all their children, who told their children, who told their children.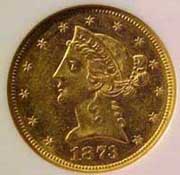 THE END OF SAM BASS

"A Brave Man Reposes in Death Here. Why was he not true?" - Epitaph on Sam Bass's headstone

Thanks to the tip of Jim Murphy, the Texas Rangers laid a trap for the Bass gang at Round Rock, and as they prepared to rob the bank there, a gun battle ensued, in which Sam Bass was wounded on 19 July 1878. The next morning, Bass was found lying helpless in a pasture, north of town, under a tree. He was brought back to the town of Round Rock, where he died on the 21st day of July 1878, which was his 27th birthday. His last words, as he lay under the tree, were "Let me go, the world is bobbing around". He is buried in Round Rock, Texas, and is the subject of many songs, stories, books and legends in Texas. Jim Murphy died 11 months later in convulsions, after living in terrific fear, due to accidentally swallowing eye medicine. The gold coin, given to my great-great grandfather Jesse Harvey McBrayer, is perhaps the same gold coin handed down from my mother, sadly the provenance is lost. Most likely the Sam Bass coin was spent on necessities at the time. The story itself, is the valuable thing to me.

"Sam Bass was born in Indiana, it was his native home;

At the age of seventeen young Sam began to roam.

Sam First came out to Texas, a cowboy for to be-

A kinder-hearted fellow you seldom ever see."

-from the ballad of Sam Bass – author unknown

references: "A Sketch of Sam Bass The Bandit" by Charles F. Martin 1956; "Pictorial History of the Wild West" by James D. Horan; "The Handbook of Texas" by the Texas State Historical Society; "A history of the Lorena, Texas Area, 1854-1981" by the Lorena Historical Commission.

On to page 51 of token web pages....

revised: 6 march 2001