PAGE 51

By Jerry Adams, copyright © 2001
As you read through this page, you will find photos of several Chinese-American trade tokens, and some interesting history of 19th century Chinese immigration to America.
THE 19TH CENTURY IMMIGRATION OF CHINESE WORKERS
The need for cheap labor as the railroads pushed eastward from the west coast, combined with the 1849 gold rush in California, created an influx of Chinese into Pacific ports. According to government records, the first Chinese arrived in the US in 1820, and fewer than 1,000 arrived over the next 27 years. The gold rush changed that, and by 1852, there were 25,000 Chinese living in California. By 1880 the number had increased to 105,465 Chinese in California.
The newly arriving Chinese were from a completely different culture. Their primary religion was Taoism, and their main deity was Kuan Kung.
The Chinese "coolie", or unskilled working man, was resourceful, worked hard and exhibited traits that America loved, this is expressed well in the following quote from "California: for Health, Pleasure and Residence" by Charles Nordhoff:
Chinese Workingmen
"FROM Merced, where the railroad company are building a very large hotel to accommodate the Yosemite travel, which here branches off for the famous valley, I had the curiosity to go down to the San Joaquin River, where the railroad people are at work. I wanted to see how Chinamen do as road-builders.
There are about seven hundred Chinese employed in grading and laying track, and perhaps one hundred white men. The engineer in charge, Mr. Curtis, told me that the Chinese make, on the whole, the best road-builders in the world. The contractor, Mr. Strobridge, told me that they learn all parts of the work very quickly; and I saw them employed on every kind of work. They do not drink, fight, or strike; they do gamble, if it is not prevented; and it is always said of them that they are very cleanly in their habits. It is the custom, among them, after they have had their suppers every evening, to bathe themselves all over; not in the stream here, which is too cold, but with the help of small tubs. I doubt if the white laborers do as much.
These Chinese receive twenty-eight dollars per month of twenty-six working days, and for this they furnish all their own supplies of food, tents, cooking utensils, etc., but the contractor pays the cooks. They work in gangs of from twelve to twenty men, who form a mess; and the headman of the gang receives the wages of all, and divides the money among them.
The Chinaman, except when he is in gala dress, is a dingy-looking creature; he is said to be parsimonious; and to an American his quarters always look shabby. One gets the idea, therefore, that he lives poorly; and I should have said that pork and rice probably made up their bill of fare here on the plains. It will perhaps surprise you, as it did me, to find that they have a greater variety of foods than their white neighbors.
They buy their supplies at a store kept in several cars near the end of the track; and this shop was a great curiosity to me. Here is a list of the food kept and sold there to the Chinese workmen: Dried oysters, dried cuttle-fish, dried fish, sweet rice crackers, dried bamboo sprouts, salted cabbage, Chinese sugar (which tasted to me very much like sorghum sugar), four kinds of dried fruits, five kinds of desiccated vegetables, vermicelli, dried sea-weed, Chinese bacon cut up into salt cutlets, dried meat of the abalone shell, pea-nut oil, dried mushrooms, tea, and rice. They buy also pork of the butcher, and on holidays they eat poultry.
Compare this bill of fare with the beef, beans, bread-and-butter, and potatoes of the white laborers, and you will see that John has a much greater variety of foods.
At this railroad store they sold also pipes, bowls, chop-sticks, large shallow cast-iron bowls for cooking rice, lamps, joss paper, Chinese writing-paper, pencils and India ink, Chinese shoes, and clothing imported ready-made from China. Also, scales--for the Chinaman is particular, and re-weighs every thing he buys as soon as he gets it to camp. Finally, there was Chinese tobacco.
The desiccated vegetables were of excellent quality, and dried, evidently, by a process as good as the best in use with us.
The cost of these supplies, imported from China, was surprisingly low, and the contractor told me that the Chinese laborers can save about thirteen dollars per month, and, where they do not gamble, do lay by as much as that. "
THE ENTRY POINTS OF CHINESE IMMIGRANTS
San Francisco was the main point of entry for Chinese. In 1849 the first Chinese American organization was formed in San Francisco called the Kong Chow Association. The Kong Chow Temple was formed in 1853 by immigrants from the Sun Wui and Hawk Shan districts of China.
By 1855 there were two Chinese language newspapers in San Francisco.
San Francisco was known as "Dai Fou" (the big city) to the Chinese immigrants, Sacramento was known as "Yi Fou" (the second city) and Marysville was known as "Sam Fou" (the third city).
Various Chinese organizations were started to aid newly arrived immigrants. "Chinese Six Companies" were family or clan based organizations that helped newcomers get established. "Tongs" were started as benevolent protective associations, but were rooted in old Asian secret societies, and later they became associated with the underworld and organized crime. Feuds between different groups were called "Tong wars."
"CHINATOWN"
The establishment of a Chinatown area in many West Coast cities was due to the influx of Chinese laborers, who needed an area where trade could be conducted, with some similarity to the way it had been done in China. Also racial prejudices in 19th century America, dictated that most races would live in certain areas of a city, thus there were areas known as "Chinatown", "Irishtown" etc. California has towns, which derived their names from those new laborers, including Chinese Camp and China Lake.
CHINESE OPIUM DENS – CARICATURES AND DEROGATORY STEREOTYPES
The caricature of all Chinese as "coolies" whose only interest was opium dens, was repeated so often in 19th century newspapers and literature, that it became a common misconception. There were opium dens, but most Chinese no more took part in those activities than the average European took part in western gunfights. The depiction of Chinese as "coolies" or contract laborers, was also based somewhat on facts, but the "coolies" idea began to have racist overtones as well. Newspaper cartoons and saloon broadsides all portrayed Chinese as horrid creatures.
ANTI-CHINESE RIOTS
During the late 1800's, there were many anti-Chinese demonstrations and riots. In California the most notable was the massacre of October 24, 1871 which resulted in 19 Chinese dead, and one Anglo dead. Fire destroyed "Chinatowns" in Yreka in 1871, Chico in 1873, Weaverville in 1874, and Riverside in 1893. Throughout the late 1800's many Chinese left the United States and returned to China.
CHINESE BUSINESSES and OCCUPATIONS
Although prohibited from becoming citizens, voting and holding public office, many Chinese-Americans found work, and even started their own businesses. Laundries were favored by Chinese for businesses, and many white Americans considered laundry to be women's work, therefore did not object when Chinese opened laundries, or even restaurants. Laundries required little venture capitol or skill, and were well suited for newly arrived Chinese who struggled with the language and customs here.
Large numbers of Chinese worked as laborers on the Trans-continental railroad, as well as other railroads. The Central Pacific Railroad employed 15,000 Chinese at one time. Chinese "cash" coins are often found at railroad worker campsites, across the western and southern United States.
Other businesses that the Chinese embraced included fishing and shrimping in Monterrey, San Diego and San Luis Obispo. Cigar factories employed many Chinese in California at one point, as did Woolen mills, lumbering operations, and of course mining. Gold mining, borax mining and quicksilver (mercury) mining all saw numbers of Chinese working in the California fields.
CHINESE INFLUENCE ON AMERICAN CULTURE
American culture has been heavily influenced by Chinese cultural traditions, even though we don't always realize it. Many Chinese/oriental influences are in the American culinary area, for instance fortune cookies, woks, Peking duck, stir-fried rice, etc. American television shows, mostly from the 1950's, have portrayed the 19th century Chinese, including "Kung Fu", "Bonanza", "Death Valley Days", "Gunsmoke", etc.
Many products sold in the United States are made in China since the "most favored trade" status of China was established. In the medical area, acupuncture is a technique, which came to the US from China.
ALLIES IN WAR
China's stand with the Allies during World War Two, influenced opinion at home, and the long standing Chinese Exclusion act was repealed in 1943. An annual quota of 105 Chinese immigrants was set, which lasted until 1952. The Immigration and Naturalization act of 1952 put a quota of 154,657 total immigrants (based on the US census data), with 100 allowed from each country.
CHINESE-AMERICAN TOKENS
I define Chinese-American tokens, as tokens that were used in the United States that have Chinese characters on them. Most also have English writing on them. Interpreting the Chinese writing is difficult, as there have been over 50,000 to 60,000 Chinese letters (characters) and the number of characters changes over time, compared to 26 English characters. Each letter is comprised of a number of pen strokes, and each type of stroke has a name. The advantage to the large number of characters in written Chinese is that many words consist of only two characters. The translation is also compounded by the American diesinkers limited abilities to represent Chinese characters, with which he had no experience or training.
LINE WO CO. BAKERSFIELD / (CHINESE CHARACTERS) / GOOD FOR IN TRADE
LINE WO CO. BAKERSFIELD / (CHINESE CHARACTERS) / GOOD FOR IN TRADE
Brass round –38 mm diameter (Bakersfield, California) ( the character on the left is LINE which means (unity)and the one on the right is WO which means (harmony) according to Mr. Jerry Schimmel of California)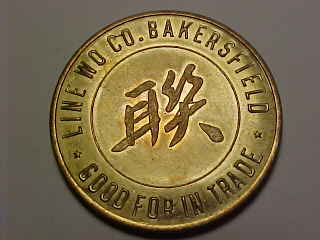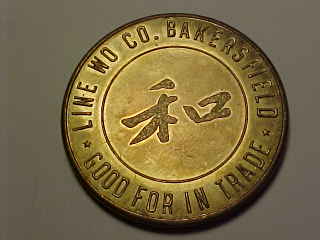 BERLIN CO. / GOOD FOR / 5C / IN TRADE / 105 E. WASHINGTON ST.
(several Chinese characters)
brass-round-19 mm diameter (Stockton, California) (the Chinese characters mean "Five Lakes Cave House", or "Five Lakes Grotto House", the characters in the center top to bottom are ENG / SEN or 5 cents )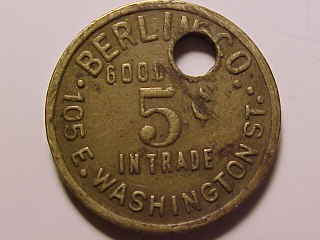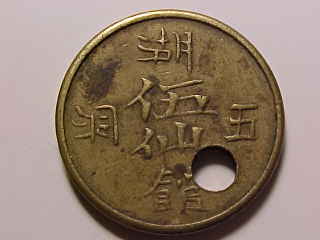 WAI YUEN CHINESE SOCIAL CLUB / (CHINESE CHARACTERS) / 5
(SAME AS OBVERSE)
aluminum-round-38 mm diameter (attributed to San Francisco, California) (the Chinese characters mean "money transfer" or "draft"; the San Francisco phone book listed this club for one year only 1940 according to Jerry Schimmel)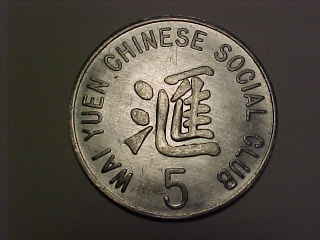 QUONG FAT WING CO. / (CHINESE CHARATERS) / 402 WASHINGTON ST.
$1.00
aluminum-round-31 mm diameter (San Francisco, California) (the Chinese characters mean "peace prosperity")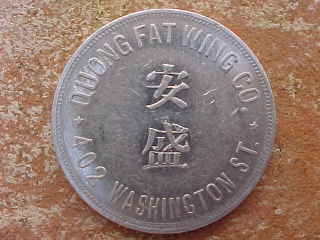 Other Chinese-American tokens had no Chinese language inscription on them, such as :
SAM SING / COMPANY / CHLORIDE , ARIZONA
GOOD FOR / ONE MEAL / AT / SAM SING CO'S / CHLORIDE, ARIZONA
Aluminum-rectangular-19x32mm (circa: 1918-21) (I do not have access to this token, however it is listed in the Arizona trade token book)
OTHER ETHNIC TOKENS
Cuban, Irish, Japanese, German, African, Indian, French, Polish, Czech, Mexican, British, Greek, Italian, Korean, Vietnamese, Swedish and other ethnic tokens are other possible avenues of research and collecting.
There is a need for study of other ethnic trade tokens to understand our history and roots. We are all descendants of people who traveled here from other lands, and to understand those early immigrants we look to tokens and their history. A wider understanding of each other's ancestors will give each collector a greater respect for his fellow man, and we all will benefit.
References: California Tokens by Charles Kappen, Arizona Tokens by Hal Birt, Nevada Trade Tokens by Hoskins, Schilling & Birt.
Ref: Thanks to Jerry Schimmel of San Francisco for correcting some of my attempts to decipher the Chinese wording on these tokens ( 29 Oct 2006)
Back to page 1 of Trade Token Tales...
On to page 52 of token web pages...
updated: 28 oct 2006