PAGE FIVE

by Jerry Adams, copyright © 1998, all rights reserved
Albert's / Saloon / (a deer head mounted on a 5 point star with T E X A S on points of star) 78 points (on neck of deer)
Cradle of Texas Liberty / (the Alamo) / Alamo
aluminum- round-31mm (circa: 1893-1900) (estimated value: $60-$150; this token as listed above is Wright #12, several varieties with different wording and placement exist)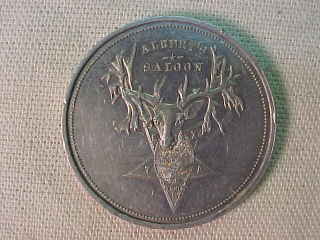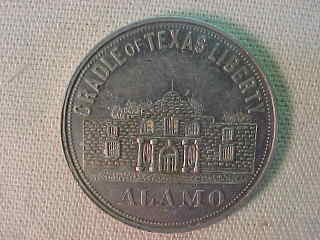 This token is listed in the Texas TAMS supplement of April 1973, and by Dr. Benjamin P. Wright's "American Business Tokens" as number 12. It is a beautiful double pictorial token.
Albert Friedrich was working for the Southern Hotel Bar in San Antonio in 1881, and undoubtedly handled many of their tokens in that job. That same year he opened his own small saloon across Dolorosa street from the Southern, which became known as "Albert's Saloon" or the "Buckhorn Saloon". Albert Friedrich's father was in business making furniture from cattle horns, and so it was quite natural that he made horn chairs for his son's new saloon. Throughout the years, Albert purchased some mounted horns for his saloon walls, and yearly made hunting trips to acquire others. He purchased the entire collection of horns from the Horn Palace in San Antonio to add to his collection.
Albert
Friedrich
The obverse of the token shows a large deer head with the inscription 78 points. This deer head is the world record whitetail deer, which came from the Ford Ranch in central Texas, about 15 miles southwest of Brady, Texas. The deer was shot in 1892 by Jeff Benson, the foreman of the ranch. Mr. Benson took the horns to Brady and left them with Jim Wall, the feed store operator. Mr. Wall sold them to the Buckhorn Saloon for $100, which was divided between the two men.
The 78 point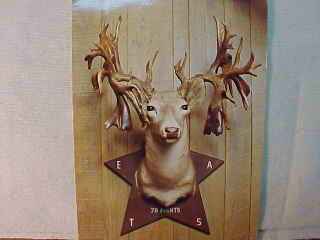 deer head
The reverse of the token shows the facade of the church of the Mission San Antonio de Valero, more popularly known as "the Alamo". Words alone, cannot express the reverence that Texans have for this site and structure. The Mission was established in 1718, but it's claim to fame is the 13 day long battle in February and March of 1836, where 183 defenders, fell to an overpowering Mexican army of 1,800, commanded by General Santa Anna. Many of the defenders were bayoneted by the attacking troops, and price they paid bought Sam Houston time to organize his Texan troops to later defeat Santa Anna at San Jacinto.
Around 1896, the Buckhorn moved to the corner of Houston and Soledad Streets, and the collection of horns, mounted heads and rattlesnake skins and rattles continued to grow. Prohibition forced the Buckhorn to change from a saloon, to a curio shop and soda fountain. In 1922 the Buckhorn moved to the corner of Houston and South Flores streets. In 1956, the Lone Star Brewing Company purchased the world famous Buckhorn collection of horns.
The bar of the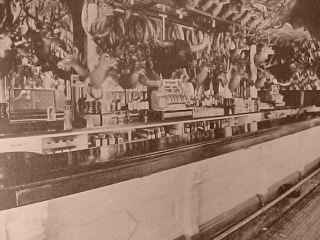 Albert's Saloon
My first visit to the Buckhorn Curio shop and "saloon" was in 1955, and as a child I was fascinated by the framed designs made from rattlesnake rattles, some 14,000 rattlesnake rattles in all form different designs. My most recent trip was ten years ago, when the Buckhorn was located in the Lone Star Brewery, just south of downtown San Antonio.
on to page 6 of token web pages
updated 5 feb 2000