PAGE 46
By Jerry Adams, copyright © 2001, all rights reserved Quite often you run across a token that has an interesting name, and you wonder how that name came about. Place names are varied, sometimes they are self explanatory, like Pilot Point, obviously named for a hill which was used by early travelers as a landmark for navigation on the plains. Other places had secondary names, nicknames that appeared on exonumia. Fort Worth's best known secondary name has always been "Cowtown" and other towns have also shared that moniker: Dodge City, Abilene, etc.

So when challenged to find the story of a second nickname "Panther city" on a Fort Worth token, I was skeptical that an answer would be easily found.

Fort Worth 1873 – THE PANTHER LEGEND Following the War Between the States, Fort Worth was a sleepy little cattle town on the Chisolm trail. In October 1873, the nations financial markets crashed, the stock market closed for 10 days, and the nations was plunged into a financial depression. Fort Worth suffered as most towns. The railroads stopped all construction, and the rails had not yet reached Fort Worth, but were stopped west of Dallas. People left Cowtown by the hundreds and only about a thousand people were left in the city. Grass was literally growing in the streets.

Dallas was in much better shape than Fort Worth, as the railroad had reached that city. The hustle and bustle of the town at the end of the rails made the possibility of making a living greater there. The Dallas newspaper at that time was the Dallas Herald. A writer for the Herald named Robert E. Cowart wrote an article for the paper that noted that Fort Worth was such a drowsy little town, that he had seen a panther laying asleep in the street by the courthouse! The Ft. Worth civic leaders and newspaper men made note of the printed slight, and the Dallas-Ft. Worth rivalry escalated.

The PANTHER BECOMES A SYMBOL OF THE CITY On 19 July 1876, at 11:23 AM the first train arrived in Fort Worth. That year coincided with the arrival of several large herds of cattle coming up the trail, and the influx of hides from the buffalo hunts on the plains west of town. By the end of the year 1876, over 204,000 cattle had come through the town, and over 200,000 buffalo hides had been transported through Fort Worth. The days of panthers sleeping on Main street seemed to be over.

The adoption of the panther as a mascot, was a kind of "thumb in your eye" signal to Dallas, that Fort Worth was "AWAKE" and as metropolitan as the city to the east. Panther Saloons sprang up almost overnight. The Fort Worth Democrat newspaper added the drawing of Panther to its masthead. The drawing depicted a panther crouched next to railroad tracks running through a thriving town, and below that the words: "WHERE THE PANTHER LAID (sic) DOWN". There were Panther meat markets, panther saloons and stores. Two live mountain lion cubs were found, and put into an elaborate cage at the fire hall. Several saloons adopted live panthers as mascots. The panther kept by the Keg Saloon was pretty wild and had a reputation as a mean critter. On January 25, 1873, the Ft. Worth Democrat reported: "The panther at the Keg Saloon scalped another man yesterday evening." (Evidently this had happened before!)

THE FORT WORTH PANTHER AS REPRESENTED IN GRAPHIC SYMBOL The Panther when shown on Fort Worth symbols is sometimes awake, crouched, ready to spring. Other times it is shown asleep, curled into a rounded position. PANTHER - MOUNTAIN LION – PUMA On the frontier, all large long tailed cats were called panthers. Today, we may differentiate between the exotic imported "black panther" and the indigenous mountain lion or puma, but in the 1880's, they were just "panthers." In scientific terms, the animal is Class Mammalia, Order Carnivora, Family Felidaeand the genus species is "Felis concolor." It ranges the southern USA from Florida to California and northward on the Pacific coast into southern Canada. It is referred to as Puma, Cougar, Panther, Painter, Catmount, Mountain Lion. It is generally a secretive solitary and nocturnal animal. The head and body measure 6 feet 9 inches long, with a shoulder height of 30 inches. Weight of a grown cat will be in the 180 pound range. The fur is tawny to gray, muzzle is white and chest is lighter colored, and the tail is tipped with black. The head is small, it is believed to be the most widely distributed carnivore in the New World. As with most large cats, it hunts deer and other mammals by stalking and rushing, or pouncing from hiding, and biting the neck of its prey. USE OF THE PANTHER NAME IN FORT WORTH Use of the Panther name includes: Panther Hall, Pascal Panthers (high school mascot), Fossil Ridge Panthers (high school mascot), and the panther appears on all police badges of Fort Worth. The first baseball team in Fort Worth was founded in 1877, called The Fort Worth Baseball Club, but they were known as the Fort Worth Cats by 1879. By the turn of the century the newspapers were calling the club the Panthers. Businesses and organizations using the panther name included Panther Novelty Company, the Panther Boys Club (founded 1928), Panther Oil & Grease Mfg. Co., Panther Cleaners, Panther City Transfer Co., Panther City Mattress Co., Panther City Motorcycle Club, Panther Sign Co., and the Panther City Lodge of the Masonic Temple No. 1183. THE REAL PANTHER STILL EXISTS Dateline: Cat Mountain Trail, Keller, Texas, just north of Fort Worth, 21 October 1999
My wife had just walked in the door from work, and as she set down her purse and briefcase, she spoke to me, "Guess what I saw on the way to work this morning?"
"I have no idea," I replied. Linda and I were on Bursey Road (2 blocks south), you know where they have those little goats on that farm?" Yes, I replied.
"Well, it was dark, and all of a sudden a black panther ran across Bursey,
with a goat in its mouth! It jumped the barbed wire fence and ran down into the creek. Cars coming the other direction stopped and looked." (The next morning I called the local animal control office and alerted them of the sightings.) Partial newspaper clipping: Tuesday November 30, 1999, Fort Worth Star-Telegram:


"Sighting of big black cat is reported in Grapevine

By Betsy Blaney Star-Telegram Staff Writer

GRAPEVINE -- A large black cat -- about the size of a German shepherd -- was
seen yesterday by a motorist in a neighborhood in the southwest part of the
city, officials said.

Animal control officers found tracks in the area where the motorist reported
seeing the big cat cross West Port Drive near Texas 121 and Hall- Johnson Road
about 1 p.m., police said. Officials said they are uncertain whether the animal
is the same one that was reported last year in several Northeast Tarrant County
cities. That big cat was believed to be a panther. "There's no way in the world
of knowing," Grapevine police spokesman Bob Murphy said. Late yesterday,
Grapevine animal control officers were setting out traps to try to capture the
feline, Murphy said. Police are cautioning residents to keep their pets and
small children indoors or to supervise them when they are outside. When a large
black cat was reported in the area almost 18 months ago, there were no reports
that it was aggressive, Murphy said. But because cats are carnivorous, caution
is necessary, he said. Anyone who encounters a large cat should slowly back away
and avoid eye contact, he said."

The tokens: PANTHER CITY SOCIAL / & / ATHLETIC / CLUB / FT. WORTH, TEXAS. GOOD FOR / 12 ½¢ / IN TRADE Brass-scalloped (4 lobes) – 28 mm (the Panther City token, that spawned the quest for the name origin) estimated value: $50 -$70 (lower value on this piece due to dug condition) (The Panther City Social and Athletic Club was located at 705 1/2 Commerce Street in 1916, and was a boxing club, where semi-pro boxing took place for entertainment purposes)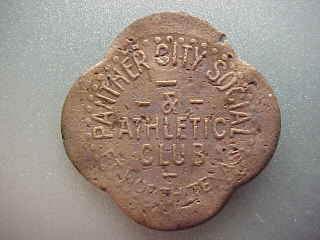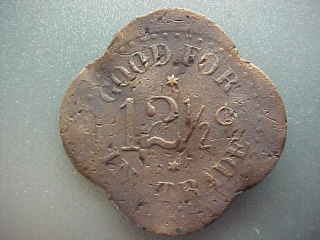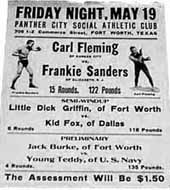 Next token: PANTHER SMOKE / HOUSE / 214 / WEST EIGHT / ST. / FT. WORTH, TEXAS GOOD FOR / 5¢ / IN TRADE Aluminum – octagonal – 20 mm (the address should have read "eighth st.", diesinkers error made it "eight st.") estimated value $60 - $85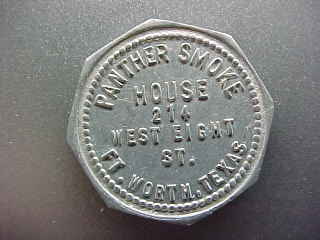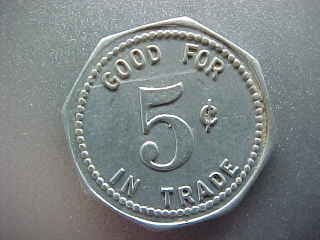 The medal:

A W A K E (each letter on the point of a 5 point star, with a crouched panther facing right in middle of star) T E X A S (each letter on the point of a 5 point star, in the middle is the inscription:) COMPLIMENTS / OF / FT. WORTH / STOCK YARDS / CO. White metal – five point star shape with loop at top- 37 mm across (also known in a slightly smaller size) (circa: 1892-1899, issued by the old Ft. Worth Stockyards Company, prior to the arrival of Swift and Armours) estimated value $135 - $165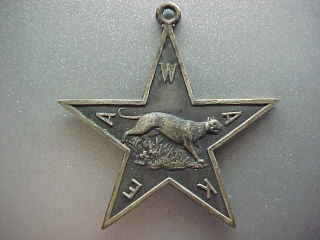 References: How Fort Worth became the Texasmost City by Leonard Sanders; North of the River by J'Nell Pate; Hell's Half Acre by Dr. Richard Selcer; Gamblers & Gangsters of Ft. Worth's Jacksboro Highway by Ann Arnold; various F.W. city directories and newspapers.
LINKS: for a great site on "Panther Hall" in Fort Worth, Texas, click here: http://pantherhall.com/
Back to page one of Token Tales...
On to page 47 of token web pages...
updated: 24 april 2004