PAGE 47

By Jerry Adams, copyright © 2001

In memory of Bob Wallace, 1921 – 1999

The token:

( Bust of Helen and Bob Wallace ) / BOB & HELEN / WALLACE / (In exergue:) HAS R. E. WALLACE / COINS / PROFESSIONAL / DEALER (Written over outline of Texas) / STAMPS / FORT WORTH, TEXAS

Aluminum – round – 32 mm diameter (circa: 1970- Helen Wallace assures me this token dates to about 1970 ) (Note: the letters HAS in exergue, stand for H. Alvin Sharpe, the die engraver, who hand engraved the steel dies for this token. Mr. H. Alvin Sharpe was best known for the engraving and introduction of many of the Mardi Gras "doubloons" made from aluminum, and was from New Orleans. Helen Wallace now owns the dies for this token, which were acquired by her and Bob after the untimely death of Mr. H. Alvin Sharpe about 1972.)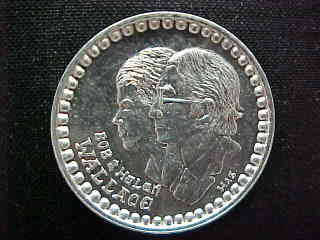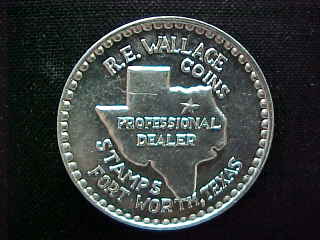 Often, someone will ask me how I got started collecting tokens. I will normally reply that I started collecting coins at an early age, back in the 50's, when many children and adults were collecting coins. It was a golden time for coin collecting, the post-war years of the early and mid 50's allowed the average working family to collect coins right out of circulation. Buffalo nickels, standing liberty quarters, wheat cents, and mercury dimes were regularly found in circulation. On occasion, you would find Indian head cents and Morgan silver coins in circulation. Coin collecting at that time in Cowtown was synonymous with one man's name, R. E. Wallace.
Reevly Elton "Bob" Wallace was born on September 4, 1921 in Belcherville, Texas. He was the son of a section foreman on Melton's Ranch in Montague County. Bob attended schools in Nocona, starting in 1927 and graduated valedictorian in the class of 1939.
BOB WALLACE – WAR HERO
Bob was of "the greatest generation" as they would be called by Tom Brokaw. He entered North Texas A&M College in Arlington in September of 1939, but resigned from school in October of 1940 to join the 36th Infantry Division Texas National Guard. He graduated from Officers Candidate School in September of 1942, just in time to be shipped out for World War Two. He landed at the beachhead at Fedahala, Morocco in November 1942. He was wounded in combat on November 11, 1942 at Casablanca, Morocco. After the battle of Kasserine Pass in March of '43, he was transferred to the 6th Armored Infantry, 1st Armored Division.
Bob fought as part of the British First Army against Rommel in Tunisia and was wounded in action again on April 27, 1943.
Returning to duty with the 6th Infantry, he landed on the beachhead for the invasion of Salerno, Italy in 1943. He valiantly served in all the 5th U.S. Army actions in Italy, including the Anzio beachhead, and was wounded a third time on March 17, 1944.
R.E. "Bob" Wallace, First Lt., served his country in combat during the war with honor and distinction. He was decorated for bravery, some of his decorations were these: Silver Star, Purple Heart, Bronze Star, American Defense Medal with foreign service bar, Combat Infantry badge, American Campaign medal, European African Middle Eastern Campaign medal with stars and arrows, Good Conduct medal, Victory medal with stars and arrows, French Croix Du Combattant, French Medal De Coloniale with Maroc Bar, British African Star, British Italy Star, French Douamont R.I.C.M., and presidential Unit Citations.
After the war, Bob was discharged in 1945, and returned to Fort Worth, and established the R. E. Wallace Stamp and Coin Company in May of 1948. The coin and stamp company provided continuous service to collectors of coins, stamps, exonumia, Indian artifacts, postal history, tokens and medals, for over 50 years in downtown Fort Worth.
BOB WALLACE – STAMP AND COIN DEALER
When I started coin collecting in the mid 1950s, the only major coin shop in Fort Worth was R. E. "Bob" Wallace's. His shop at the time, was in the old Knights of Pythias red stone building at the corner of third and main streets. His shop covered most all of the ground floor, at that prominent location. My older brother also collected coins, and he had much more money to spend, since he was working. My brother introduced me to the "bid board" at the R. E. Wallace shop. The tactic that my brother used, was (similar to EBAY sniping) to stand directly in front of the lot on the board as the closing time approached, and at the last few seconds ticked by, write down your bid on the bid sheet to which the coin was attached.
One particular day stands out in my memory. I was about 10 years old, and one of my friends and myself were going to "the coin shop" to look at the coins and maybe buy what we could with our meager funds. Bob's shop was still in the Pythias building at 3rd and Main. We also went to a pawnshop at 2nd and Main, and bought a few Indian head cents there. Immediately we walked the block to the R. E. Wallace coin shop and sold one or two of the coins for a little more than we had just paid! We of course thought we were geniuses, and I am sure Bob was on to our little scam, and was just trying to instill a little interest in coin collecting and coin dealing in us.
Sometime around 1962, Bob moved his shop to Leonard Brothers Department store. In 1968, Bob married Helen, who became his business and life partner. Their shop was on the "subway aisle" (for a while), and did a good business. He was at the Leonard's basement location when I returned from military service in 1973.
MY FIRST TRADE TOKENS
Bob's shop at the Leonard's location is where, I bought my first trade tokens, and became interested in token collecting. My first purchases of tokens from him were a H. B. Luck token from Fort Worth, and a Day and Night token from Fort Worth. I would often stop at Bob's shop while he was in the Leonard Brothers Building, and look over his tokens, encased cents and medals. He knew I was very interested in Fort Worth items, and he would show me all kinds of unique items from Cowtown. The biggest mistake I ever made, was passing up a (non-dug) Fort Davis canteen token at his shop for $25 in the early 1970's (I was a new collector, and didn't know any better). The token was gone by the time I found out how rare it was, sold to a Dallas collector.
Later he moved his shop to a street level store in the Parking Garage building of the Fort Worth National Bank Building near 4th and Taylor Streets. This was great for me, as the company I worked for was directly across the street! In 1981, Bob and Helen Wallace moved the coin shop to a freestanding building at 312 East Weatherford St.
Bob was equally at home discussing stamps as coins. He was well versed in Texas historical paper items, autographs, early postmarks, medals, tokens, and most any item related to early Texas history. In later years, his passions ran more toward stamps and postal history. He was genuinely interested in the history too, one medal I bought from him, included the photocopies historical background he had acquired from the San Antonio Public Library.
BOB WALLACE - CITIZEN
Bob never forgot his combat experiences, and when the U.S. sent troops to Saudi Arabia for Desert Shield, Bob wrote many letters to soldiers who were stationed abroad, freely giving his fatherly advice and sending along small packages to the soldiers. He was always delighted to get return mail from the soldiers, and treasured those letters for content and postmarks!
R. E. "Bob" Wallace died in Fort Worth on June 30, 1999, and was buried in Nocona, Texas, at the Nocona Cemetery. Helen Wallace continues to operate the coin shop at the Throckmorton street location, into the 6th decade, as R. E. Wallace Coin and Stamp.
(Thanks to Helen Wallace for sharing her insight into the firm of R. E. Wallace, and her help with the details of the company, and Bob's life)
On to page 48 of token web pages...
updated 8 March 2002