PAGE 43

by Jerry Adams, copyright © 2000 all rights reserved
Each token in your collection, binds you to the past, to history. They whisper, " Don't forget!"
the token:
RHODES VARIETY STORE / ELECTRA, / TEXAS.
GOOD FOR / 5 ¢ / IN TRADE
aluminum-scalloped (8 lobes) - 29 millimeters diameter (circa: 1920, estimated value: $20.00-$50.00)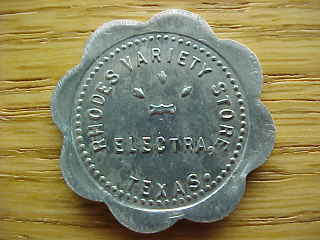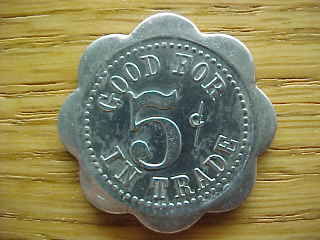 It is fairly unusual to find a Texas town named after a woman, most seem to be named after men. Frontier towns would often be named after the first settler, the first postmaster, the man who donated land for the town square etc. This town was named after the feisty daughter of a local cattleman.

OVERVIEW OF ELECTRA WAGGONER'S FAMILY

Electra Waggoner was the daughter of W. T. Waggoner (1852-1934) who was the son of Dan Waggoner (1828-1902).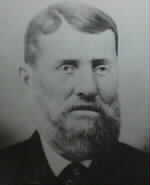 DANIEL WAGGONER (1828-1902) Daniel Waggoner (1828-1902), rancher, was born in Lincoln County, Tennessee on July 7th, 1828 to Solomon and Elizabeth (McGaugh) Waggoner. The Waggoner family moved from Tennessee to near Blackjack Grove (now called Cumby) in Hopkins County Texas in 1848. Solomon Waggoner made a good living trading in horses and slaves prior to his death in 1849.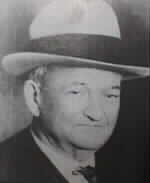 WILLIAM THOMAS (TOM) WAGGONER (1852-1934) W. T. Waggoner (Tom) was born to Nancy (Moore) Waggoner and Daniel Waggoner on August 31, 1852 on the family stock farm in Hopkins County Texas. Nancy Moore was the daughter of William Moore of Hopkins County Texas. The Waggoner (three D) Ranch had it's beginning in 1854 when Daniel Waggoner (1828-1902) and a 15 year old black slave boy drove 242 longhorn cattle and 6 horses into Wise County Texas. The longhorn herd had been recently purchased by Daniel, and accompanying him on the trip to Wise County were his son, mother, brothers, sisters and the aforementioned 15 year old black slave. Dan Waggoner moved his wife Nancy (Moore) Waggoner and son William Thomas (Tom) into a home on a 160-acre farm on Catlett Creek near the present site of Decatur in what is now Wise County. Dan's wife Nancy died in 1853 (at age 20) and W.T. went back to live his sister Sarah Yarbrough. In 1856, he purchased 320 additional acres close to Cactus Hill, 18 miles west of Decatur. Dan married again in 1859 to Scylly (or Sicily) Ann Halsell and established the Cactus Hill headquarters on the West Fork of the Trinity River in Wise County. Tom joined the couple and Scylly adopted Tom as her own. The family moved into his log house at Cactus Hill where they lived until the close of the War of the Rebellion. Dan was a member of the local militia and was called to chase after Indian raiding parties, while Scylly and W. T. concealed themselves in the cornfields. In order to protect his family, they relocated 7 miles east of Decatur on Denton Creek. In 1883, he built a $50,000 Victorian mansion on a rocky hill overlooking Decatur, which became known as "El Castile." Dan Waggoner's first brand was a D61, but about 1866 he changed to three D's in reverse. By 1869, father and son had formed a partnership, called D. Waggoner and Son. They wintered a herd in late 1869 in Clay County. In 1870 they drove the herd to the Kansas market, and selling there for a profit of $55,000, which became the basis for their family fortune. By the early 1880's, their range extended 30 miles from the Pease River to China Creek. In 1885 they leased 650,000 acres of rangeland in Indian Territory. Seeing the coming of the end of the open range, the Waggoners began to buy up land near the ranch, paying about a dollar an acre. Between the years of 1885 and 1903, they slowly built up their land holdings to cover a block running 30 miles east to west and 25 miles north to south, which included more than a million acres. It extended in to the following counties: Foard, Knox, Baylor, Archer, Wilbarger and Wichita. ELECTRA WAGGONER (1882-1925) W.T. (Tom) Waggoner married Ella Halsell in 1877. W.T. and Ella had a daughter a few years later. Electra Waggoner was born near Decatur, Texas on January 6th 1882. The name Electra is from the Greek meaning "the bright one." In Greek history, Electra was the daughter of Agamemnon. In 1885, Dan and Tom Waggoner persuaded railroad officials to establish a switch at the site of their loading pens, 15 miles north of Wichita Falls. The spot was later to be named "Electra". The first name for the switch was Waggoner. By 1889, with the establishment of a post office and depot, the name was changed to Beaver, named for Beaver Creek which flowed nearby. related exonumia: 1941 encased cent from Ft. Worth's Dan Waggoner building: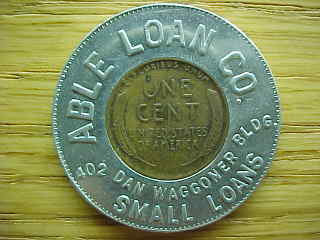 As the Waggoner holdings increased, W.T. moved the ranch headquarters to the Zacaweista Ranch south of the Red River near Vernon, Texas. Dan Waggoner stayed in Decatur, Texas. In 1902, the residents of the town of Beaver, which Dan and Tom had established, voted to rename their town in honor of the Tom's daughter, Electra. When W. T.'s daughter Electra Waggoner married (10 June 1902 ) Albert Buckman Wharton of Philadelphia, he had a mansion built in Fort Worth for the newly wed couple. The mansion was on a hilltop, slightly west of the city, at 1509 Pennsylvania, at the huge cost (then) of $38,000. It was designed by the local architectural firm of Sanguinet and Staats. The Whartons lived a lavish lifestyle, enjoying the new home, entertaining friends and associates frequently. When W.T. divided his estate and gave each of his children 90,000 acres of land and 10,000 head of cattle. To top it off, oil was discovered on the ranch in 1903. The Electra and A.B. Wharton sold the Ft. Worth mansion to Winfield Scott, and moved to their ranch property near Vernon. Electra (Waggoner) and Albert Wharton had a son, Tom Waggoner Wharton, born in 1903. Tom Wharton died in 1928 at age 25. The town of Electra, Texas was only about 500 people in 1907 when it was incorporated, but grew to about 1,000 residents by 1910. It had a newspaper, a bank, several churches, and by 1911 it's own school district. On April 1, 1911, Clayco No. 1 oil well blew in a mile north of Electra, Texas. News of the gusher spread rapidly and the town of Electra grew to a population of 5,000 within months. The Electra oilfield produced about 10 million barrels between 1911 and 1925. The population of Electra was 5,400 in 1917, by 1926 it had fallen to 4,744. By 1936 the town had grown to 6,712 residents and 170 businesses. By the mid 1960's the town had decreased in size to about 5,000. In 1990, the population of Electra, Texas was 3,113 with 48 businesses.

Electra Waggoner married three times, the first as previously mentioned to A. B Wharton in 1902, then later she married James A. Gilmore, then lastly she married Weldon Bailey. Electra died on November 26th, 1925 at 43 years of age.

Currently, the town of Electra has an active chamber of commerce, a website, a high school with 250 students, and large elementary and secondary schools. Old Dan and Tom would be proud of their heritage!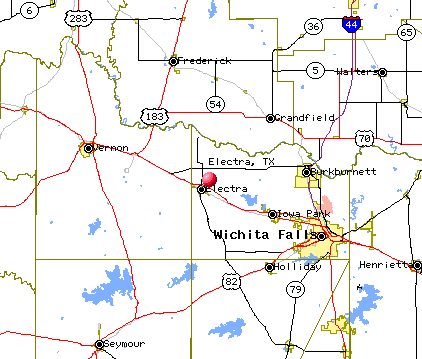 On to page 44 of token web pages...
Back to page 1 of Token Tales...
updated: 18 june 2000