PAGE 44

By Jerry Adams, copyright © 2000
Each token in your collection, binds you to the past, to history. They whisper, " Don't forget!"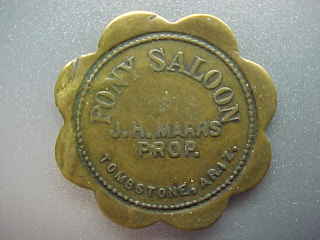 GEOGRAPHIC NAMES of THE AMERICAN WEST

Early in the day, just at sunrise, is a good time to think about history. The day is new, a full day is ahead, a full day behind, and the mind is clear. One ponders the contrast of place-names of one hundred and thirty years ago, compared to the Anglo-British sounding names given geographic places in the past 40 years. Now it seems that every subdivision name giver, and street designator in United States is dead set on recalling some kind of Scottish-English manor, with names like Thistle Hills, Brandy Down, Highland Oaks, and Stone Gate. Things were not always thus, and 130 years ago, more descriptive names were given to places. Perhaps this was because of the newness of the country, or the newness of the people to the country. Descriptive names added less educated travelers in identifying landmarks. More honest and descriptive names were also the result of a people more in touch with the land, its smells, sounds and taste. Many of the geographic names bestowed by frontier Americans were not always politically correct! The place names of Squaw Tit Peak, Irish Creek and Old Granny's Neck, Texas come to mind. Some of my favorite place names (not all with tokens known) are Bug Tussle (Texas), Pole Cat Branch, Cut and Shoot (Texas), One Eye Creek, Bones Chapel, and Tombstone, Arizona.

HISTORY OF THE TOWN of TOMBSTONE, ARIZONA

The area around what later became Tombstone, was known as Goose Flats when prospector Ed Schieffelin found silver there in 1877. Schieffelin was told by soldiers that the only thing he would find in the area was Indians and his own tombstone. So Schieffelin named his silver mine "The Tombstone", and the name became famous. By the early 1880's, the town called Tombstone, was a booming mining camp, with nearly 10,000 people. Wood houses, saloons, gambling houses, boarding houses, shacks, and mines were scattered across the rough landscape. The blazing sun, heat, lack of rain was hard on women and children. Grown men would often faint from the intense heat and desert conditions. The ground was covered with cactus, snakes, spiders and scorpions were abundant. Winter brought desert cold, which made those months more suitable to human habitation.

Photograph of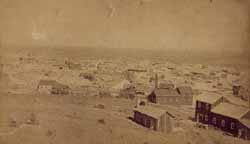 Tombstone, A.T. made by C.S. Fly
Tombstone had many of the types of businesses typical to early 1880s frontier towns, including cigar stores, general stores, barbers, blacksmiths, photographers, newspaper, hotels, billiard halls, saloons, lawyers, doctors, gambling halls, theatres (leg operas) and hardware stores.
FAMOUS RESIDENTS of TOMBSTONE
Many famous westerners, were drawn to Tombstone in the height of its prosperity, most came for the money generated from the mining of silver. Some came to own mines, or to work mines. Some came to part the miners from their money. Some of the more famous residents of Tombstone (please note the colorful western nicknames that were common in those days) include "Doc" Holliday (Dr. John Henry Holliday) Morgan Earp, Warren Earp, Virgil Earp, Wyatt Earp, "Big Nose" Kate (Doc Holiday's woman), Johnny Ringo, and"Curly Bill" Brocius. Other lesser known residents included "Rattlesnake" Bill Johnson, "Turkey Creek" Jack Johnson, and "Texas Jack" Vermillion.
Big Nose Kate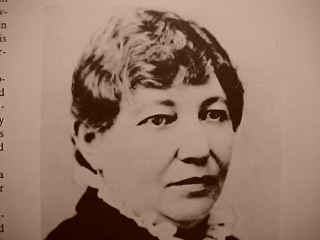 (Doc Holiday's female companion)
THE GUNFIGHT at O. K. CORRAL
Much has been written on the gunfight at O.K. corral, briefly and without background, here is what happened. On October 26, 1881, 3 men were killed and 3 more wounded in a face to face shootout, between two factions. On one side were the "Clanton gang" (often called: the cowboys) and the other the side representing the law. The gunfight involved nine men, and took about 60 seconds.
Ike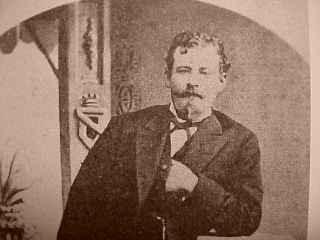 Clanton
The trouble had been brewing for weeks between the Earp faction and the Clantons. October temperatures in Tombstone were cool, but tempers were hot, the red mist of hatred clouded the eyes of the Earps.
Tom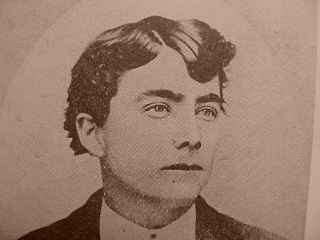 McLaury
The "Cowboys" (or Clanton gang) presented five men at the gunfight, Frank McLaury, Tom McLaury, Ike Clanton, Billy Clanton, and Billy Claiborne. Wes Fuller had started with the gang, but ran for photographer Fly's studio when he saw what was coming. The spread out along an adobe wall on the west side of the vacant lot. Claiborne had two six guns holstered on his belt, the remaining four each had one six gun, all holstered except for Tom McLaury whose gun was in his waistband.
Frank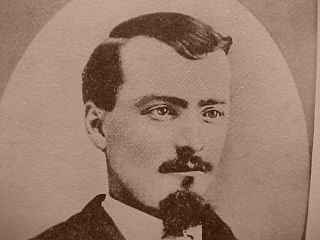 McLaury
As the lawmen marched into the vacant lot from the street, they were four. Marshal Virgil Earp was on the left, his six gun holstered, he carried a cane (either from Doc or Morgan depending on whose story you believe). Wyatt Earp was in the middle, to his right was Morgan Earp, and Doc Holliday was on the far right, wearing a gray overcoat, under which he carried a borrowed double barrel shotgun, and his holstered Colt 45 caliber nickel plated revolver.
Doc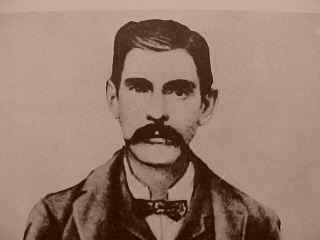 Holiday
Virgil Earp raised the cane, and shouted "You men are under arrest, throw up your hands."
Virgil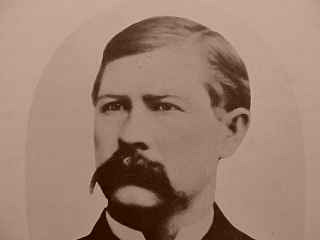 Earp
Billy Clanton and Frank McLaury reached for their six-guns and cocked the single action revolvers as they cleared leather. In a split second Virgil was responding by changing hands with the cane and raising the other hand while shouting "Hold, I don't want that." But before the words had completely left his mouth the first shots were fired. Large puffs of white smoke accompanied the sounds of the gunfire, and the smell of burning gunpowder mixed in with the smell of horse manure heavy on the air.
The next 20 seconds were filled with gunfire in short bursts. Wyatt, being one of the fastest on the draw had cleared leather and fired at almost the same time as the two cowboys. Doc Holliday was in a bad position to fire the shotgun, which he pulled from beneath his long coat, he strode to the side, and closer to the adversaries, seeking a clean target. Holliday stalked Tom McLaury who was trying to pull a rifle from the saddle boot of his horse. Holliday strode closer and fired both barrels of the shotgun at Tom McLaury. The double charge of the shotgun opened up Tom just as he was leveling his six-gun at Wyatt.
Morgan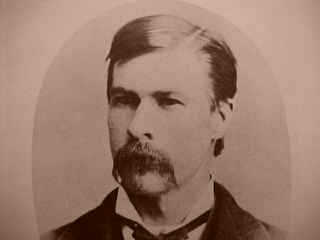 Earp
One bullet passed through Ike Clanton's pants as the Earps opened fire. Ike Clanton immediately ran forward toward Wyatt Earp and dropping to his knees as he came within a few feet. Ike was unarmed and he began begging Wyatt to stop the shooting. Wyatt could see that Ike was unarmed, and spoke to him "The fight had commenced. Got to fighting or get away."
Volleys of fire continued from both sides, Virgil took a shot through his calf, and dropped to the ground. Morgan Earp fired at Billy Clanton, hitting him in the chest, again in the wrist and also in the stomach. Billy did "the border shift", tossing his six-gun to his uninjured hand, he fell back against the Harwood house, slowly dropping to the ground as he continued firing.
Morgan Earp stumbled, showing he had been injured and said, "I am hit", as he went to the ground. Morgan immediately regained his feet, and stumbled again on a mound of dirt.
Just after Doc Holliday had fired both barrels of the shotgun into Tom McLaury, he tossed the shotgun aside and pulled his nickel plated Colt 45 revolver from his holster. Frank McLaury was badly wounded, but managed to hold onto the horse's saddle, and using the horse for cover moved toward Fremont Street. He ran into Fremont Street, still holding the horses reins, and fired again at Morgan. The horse, finally spooked, broke away and ran down the street, leaving Frank McLaury to fall to his knees in the street. Doc was still pursuing Frank, and as Frank saw Doc coming toward him, rose to his feet and raised his pistol at Doc, while growling "I've got you now."
Doc stepped even closer to Frank and spoke "You're a good one if you have." McLaury fired at Doc, hitting him along the leather holster on his side, grazing him across his hip. Doc exclaimed, "I'm shot right through." Doc discharged the Colt, hitting Frank squarely in the chest. Frank wilted again into the street, slowing moving, still clinging to life. Doc still was moving in his direction, and talking: "The son-of-a-bitch has shot me and I mean to kill him."
Tom McLaury lay dying at the base of a telegraph pole at the corner of Third and Fremont streets.
left to right: Tom &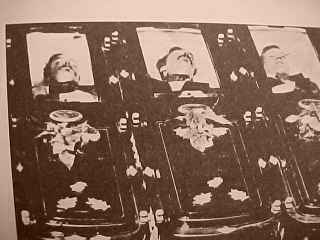 Frank McLaury & Billy Clanton
Tombstone's residents had been startled about 3 PM by what some had thought were firecrackers. Some thirty shots had been fired within about 20 to 30 seconds. As the white smoke cleared, and the few who remained standing took stock, it was hard to tell who had won. Ike Clanton, who had instigated the entire fight, had come unarmed, and was the lone survivor on the cowboy side. Frank McLaury was dead, shot in the belly by Wyatt. Tom McLaury was dead, shot by both Doc and Morgan, killed by Doc. Billy Clanton was dying, having been shot by Wyatt.
Wyatt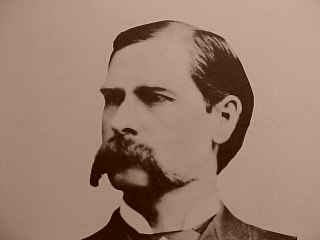 Earp
Virgil Earp had been shot in the calf, and would recover from his minor wound. Morgan Earp had been seriously wounded, a bullet had entered one shoulder and chipped a vertebra, and passed out the other shoulder. Doc Holliday had suffered a grazing bullet wound on his hip, which had been partially deflected by the leather holster on his skinny hips. Wyatt Earp, fast on the draw, with his nerves of steel and luck of the gambler had emerged completely unharmed!
A FEW TOMBSTONE TRADE TOKENS
BILLIARD / PARLOR / TOMBSTONE, / A. T.
HAEFFNER & SHAUGNESSY / GOOD FOR / 1 / DRINK / 12 ½¢
Brass-round - 25 millimeters (estimated value in XF = $700)
KEG / SALOON / TOMBSTONE, / A. T.
GOOD FOR / 1 / DRINK
Brass-round -25 millimeters (estimated value in XF = $700)
CRYSTAL / PALACE / TOMBSTONE, / ARIZONA
GOOD FOR / 12 ½¢ / IN TRADE
Aluminum-octagonal – 26 millimeters (estimated value in XF = $1,200)
CRYSTAL PALACE LIQUOR CO. / TOMBSTONE, / ARIZ.
GOOD FOR / 12 ½¢ / IN TRADE
Aluminum-round - 25 millimeters (estimated value in XF= $900)
PONY SALOON / J. H. MARRS / PROP. / TOMBSTONE, / ARIZ.
GOOD FOR / 12 ½¢ / IN TRADE
Brass- scalloped (8 lobes) – 29 millimeters (estimated value in XF= $300 )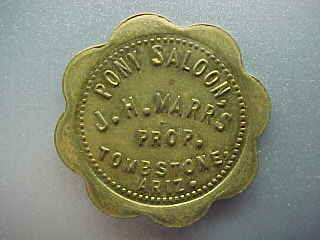 TOMBSTONE TOKEN "GO-WITHS"

Many authentic items are found, which make fine "go-withs" for Tombstone tokens, including cabinet cards from C.S. Fly's photographic studio which was located next to the OK corral. Three recently appeared on the internet auction website EBAY and sold for between $230 and $790.

Also postal markings of Tombstone from the early 1900's and late 1800's make a nice affordable go-with. MOVIES AND BOOKS

Many movies have been made over the years, about the gunfight at OK corral, Wyatt Earp and Tombstone. Here is a listing of movies about Wyatt Earp and Tombstone:

Frontier Marshal (1939) Randolph Scott as Earp

Law and Order (1953) Ronald Reagan as Earp

Wichita (1955) Joel McRae as Earp

Sunset (1988) James Garner as Earp

Tombstone (1993) Kurt Russell as Earp

Wyatt Earp (1994) Kevin Costner as Earp

My Darling Clementine (1946) Henry Fonda as Earp

Wyatt Earp, Return to Tombstone (1994)

Gunfight at O.K. Corral (1957) Burt Lancaster and Kirk Douglas

Hour of the Gun (1967)

Here is a listing of some books which may be of interest and provide more information about Wyatt Earp and Tombstone:

The Earp Brothers of Tombstone by Frank Waters

And Die in The West by Paula Mitchell Marks

The Chronicles of Tombstone by Ben Traywick

Tombstone's Epitaph by Douglas Martin

Wyatt Earp, The Life Behind the Legend by Casey Terfertiller

Doc Holliday by John Myers Myers

FAKE & FANTASY TOMBSTONE TOKENS

Such a popular collectable, is sure to draw con-artists, and a number of fantasy tokens are known from Tombstone. Here are a few:

OK Corral, Tombstone, A.T. 10 cent (DRA marked, Deep River Armory fakes)

Tombstone Wareroom, $5 1872 (L.A. Stamp marked fakes)

Honest Walt's Saloon, Tombstone, Arizona Territory (fantasy brothel token)

Gem Saloon, Tombstone, Arizona Territory (fantasy brothel token)

Others likely exist, values are minimal, perhaps a dollar each.

EPILOGUE

Of the many towns associated with the American west, only a few are as popular as Tombstone. The gunfight at O.K. corral was the main reason that authentic Tombstone tokens and artifacts are so highly prized.

On to page 45 of token web pages....

Back to page one of Token Tales...

updated : 27 dec 2000