PAGE 41
TEXAS TOKEN COLLECTORS MEETING
HOUSTON, TEXAS - 11 MARCH 2000
The Texas token collectors informal meeting was held in a small town some folks may have heard of, called Houston, on Saturday, 11 March 2000. Attendance was good, having more than 20 collectors attending, even though several regulars were not able to attend. Missing were Bob Smith and Don Bailey who were unable to attend due to other duties. Buying, selling, trading were all brisk, with many tokens changing hands. Great items seen but missed department, was a celluloid mirror from Fort Worth, which fell into other hands on the flip of a coin (can't say we aren't game). Wild west figures were evident, the jingle of spurs and the clomp of boot heels on the flooring, were testament that the West, is not dead.
Some of the collectors attending, included: Dale Frost, Harvey Thamm, Jerry Adams, David Durocher, Jim Kattner, John Haberbush, Robert Stone, Bill Ray, Travis Roberts, Charles Briggs, Joe Hunt, John Byars, Buster Harber, Cliff Crow, Mike Greenspan, John Muth, Norbet Westmoreland, and Alan Barbee.
The long drive from Fort Worth to Houston was made easier by the company of my wife, Sandra, who thrashed the local antique shops while I attended the meeting. Travis, Joe, Jerry, and John all had hundreds of tokens for sale. Also sold was a large bag of about 1,400 amusement tokens, and seen for sale was a large bag containing 300 military tokens. Other items that changed hands were: a merchant token from "Cool Edge, Texas", a black vulcanite token from Galveston, a Waco, Texas TX950C transit token in perfect condition, several nice lumber tokens from White City, Texas, tokens from Hester, LA; Talihina, Oklahoma; Wildhurst, Texas; Robstown, Texas; Franklin, Texas. Also changing hands were tokens from Cotulla, Texas, Port Arthur, Texas, Marathon, Texas, and Del Rio, Texas.
The afternoon drive back up Interstate 45, was great, this time of year, with the first blooms of the bluebonnets, Indian blankets and othe wild flowers.
Much knowledge was gained and exchanged, both about tokens and collecting tokens. Stories were told, new friends made and old friendships refreshed. Topics discussed ranged from ebay names, to prices, how tokens were found, leads, listings for the new Texas book, etc.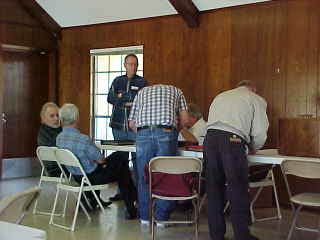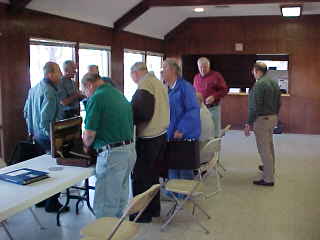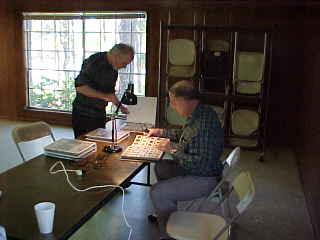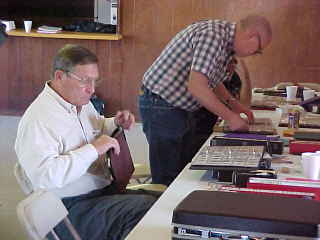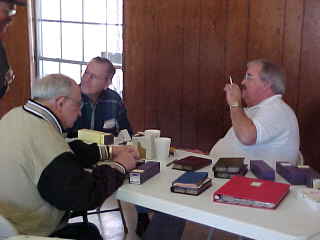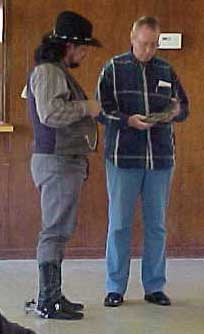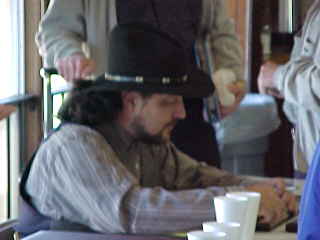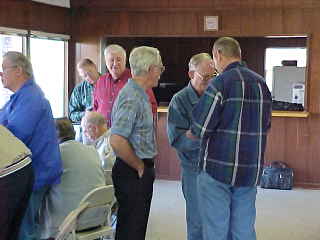 Thanks to David for securing the meeting room, providing the coffee, and to the mystery man who brought the donuts!
For you Texas token collector historians........the Texas token collectors group photo at the spring 1976 Houston meeting: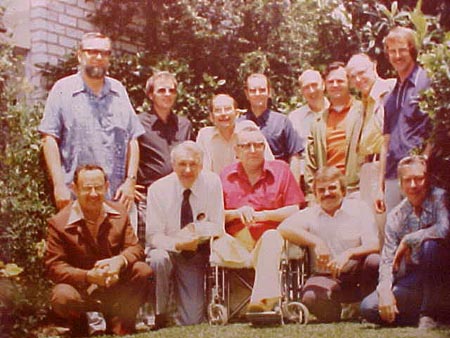 back row left to right: John Ribbe, Charles Berger, Jerry Adams, John Byars, Dick Worthington, Hank Reidling, Leo Warren, Tom Rhodes.
bottom row L. to R.: Jim Ruhland, Bill Fowler, Harry Strough, Travis Roberts, Norvil Wilson. (photographer was Robert Fleet)
On to page 42 of token web pages..