PAGE 42
W. A. Miller- 1817-1900
Barber -1890-97
Denton, Texas
Decatur, Texas
by Jerry Adams
copyright 2000
the token:
W. A. MILLER / GOOD FOR / 1 / SHAVE / BARBER SHOP (all incuse)
(reverse blank)
brass - round - 28 millimeters diameter, estimated value = $40.00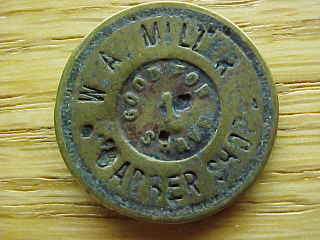 It seems that many barber shop tokens, do not "travel" great distances from where they were used in North Texas. I have found barber tokens from many surrounding Texas towns, including Jacksboro, Decatur, and Bowie.
The W. A. Miller token, which was discovered in Fort Worth, when researched, turned up "hits" on the name W. A. Miller, for Denton, Texas as a barber in the years 1890, 1892 and 1897. Since the name Miller is a fairly common name, I decided to check further on the name in the local public library, in the genealogy section, which contains many local history books.
There I found a book "Pioneer History of Wise County" by Cliff D. Cates. In this book, I found further evidence of Mr. W. A. Miller, and some of his life story.
It seems that Mr. W. A. Miller was known in Wise County as "Uncle Billy Miller" to the local townsfolk. He was described as a jolly, and generous man, who was an eternal optimist. His full name was William Alfred Miller, and he was born in Hopkins County, Kentucky in 1817. In Kentucky, he met and married Mildred B. Hughes, who came to Texas with William in the year 1853. Their original home in Texas was in Burleson County. In about three years, William and Mildred moved back to Williamson County Illinois. But by 1857, they moved back to Burleson County Texas.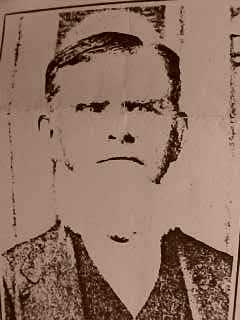 Being a young and optimistic man, William bought a mule and rode up to Wise County Texas to prospect. He liked the land and water there, and moved Mildred and his family to Wise County in 1859.
His first location in Wise County was the "Lockard Place" south of Decatur, and from there moved to the "Sweetwater Place" where William lived out his remaining years. William and Mildred raised a large family, childred: Sallie, Frank, Kittie, C. H., Jim F., Eliza, and Viola.
W. A. Miller, was a well known barber in Decatur as well as Denton, and was equally well known as a successful inventor, and a respected citizen.
W. A. Miller died in August of 1900, and his wife Mildred died two months later in October of 1900.
Go to page 43 of token web pages...
updated: 20 May 2000