PAGE 40

By Jerry Adams
Copyright © 2000, all rights reserved
The token:
THE CURTIS PUBLISHING COMPANY / LUNCH / 1 / ROOM
1
brass – round – 19 millimeters (Philadelphia, Pennsylvania, estimated value: $4.00)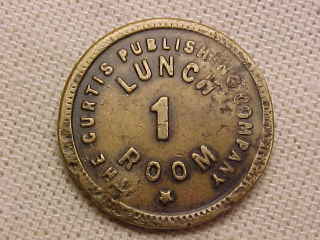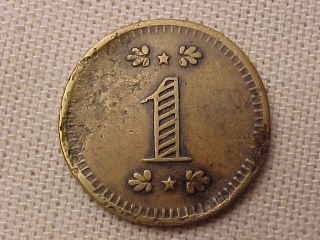 Late in 1999, I was delighted to purchase a token from the Curtis Publishing Company, having recognized the name as the publisher of the Saturday Evening Post.
Our memories of the Saturday Evening Post are mostly of the covers made famous by artist Norman Rockwell. Americans have always held Rockwell's work in high regard, having great admiration for his ability to show Americans, as we should be.
BEN FRANKLIN- CYRUS CURTIS- NORMAN ROCKWELL
The origins of the Saturday Evening Post go back to a newspaper published by Ben Franklin called the Pennsylvania Gazette in the 1700's. A man named Cyrus Curtis saw the paper in 1897 which was by then a weekly of about 16 pages, with no illustrations, very little advertising and only about 2000 readers. He paid $1000 for the entire operation, and hired a new editor, and set out to turn the paper into a weekly magazine of renown.
The editor Curtis hired was George Horace Lorimar, and Lorimar began work on the magazine. Curtis poured over one million dollars into the magazine in five years, hiring the best authors and illustrators. This did the trick, and by 1901 the circulation had increased to 200,000. By 1909 the cover of the Post proclaimed "over 1,000,000 copies sold!"
Among the illustrators hired to do covers for the magazine, were N. C. Wyeth and the American icon Norman Rockwell.
NORMAN ROCKWELL
Norman Percevel Rockwell was born February 3, 1894 at 2 A.M. in the morning in the back bedroom of a brownstone at 103rd Street and Amsterdam Ave., in New York City. By 1899, Norman was showing his artistic talent by drawing pictures of battleships after attending a parade for Admiral Dewey. His family moved to Mamaroneck, New York in 1903, and he was raised in a series of boarding houses. About 1908, in his early high school years, young Rockwell decided to become an illustrator. He commuted to the Chase School of Fine art, and by age 15, quit high school and enrolled in the National Academy School in New York. Rockwell painted a total of 400 covers for the Post. He was one of the most talented and prolific painters to hail from the US in this the last 100 years. His early illustrations were sold to St. Nicholas magazine and other publications for the children.
Rockwell sold his first cover to the Curtis Publishing Company in 1916. The pipe smoking thin artist worked for over 60 years painting the common people of all walks of life. He worked 7 days a week, with a half-day off for Christmas, loved his work, and was always trying to improve each painting.
Among the famous people who sat for portraits by Rockwell were Nassar of Egypt, Nehru of India, President Eisenhower, President Johnson and President Kennedy.
Rockwell's personal contribution to the war effort in World War Two, was a series of four paintings, reproduced as posters by the government, and used as covers for the Post, entitled "the Four Freedoms." The posters symbolized the aims of this country during World War Two, and perhaps symbolized what this nation was founded on better than any man made object since the Declaration of Independence. The Four Freedoms series of paintings were inspired by the speech of President Franklin Roosevelt in a speech by the same name.
"We look forward to a world founded upon four essential human freedoms.
The first is freedom of speech and expression--everywhere in the world.
The second is freedom of every person to worship God in his own way—everywhere in the world.

The third is freedom from want…everywhere in the world.

The fourth is freedom from fear…anywhere in the world."

--President Franklin D. Roosevelt, Message to Congress, January 6, 1941
They are perhaps the most famous of all Rockwell paintings, and include Freedom from Fear, Freedom from Want, Freedom of Speech and Freedom of Religion. Rockwell's paintings generally addressed the more pleasant aspects of life, children fishing, baseball games, etc. On occasion, he did paint more serious subjects. Another of his World War Two paintings shows a GI manning a machine gun, his shirt in rags, sweat and grim evident, his face obscured by shadows. Another painting (Breaking Home Ties) represented both hope and melancholy, showing a young man waiting for the train to take him to college, his father sitting beside him, is painted to show he has spent his life in the fields.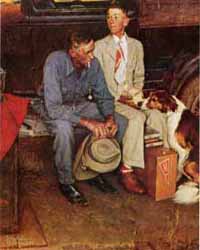 The family collie rests his chin on the boys leg. Subtlety, showing moments in life when words could longer express feelings, was Rockwell's strong point. Norman Rockwell Museum is located at The Curtis Center, 601 Walnut Street, Philadelphia, Pennsylvania. It is located in the original Curtis Publishing Company Building where Rockwell arrived regularly with his paintings for Post covers. Stockbridge, MA is the home to another Norman Rockwell museum, where a large collection of Rockwell's work is on exhibit, as well as preserving his studio. In 1957 the United States Chamber of Commerce named Rockwell as a "Great Living American", saying " Through the magic of your talent, the folks next door – their gentle sorrows, their modest joys – have enriched our own lives and given us new insight into our countrymen."
EPILOGUE
Assuming these tokens were used in the lunchroom of Curtis Publishing, it is doubtful Norman Rockwell ever touched one of them. This is not to say that Rockwell was very familiar, and indeed enjoyed lunch counters and cafes. Many of his paintings depict lunch counters or cafes, including: "Saying Grace" 1951, "War News" 1944, "Soda Jerk" 1953, and "The Runaway" 1958. All his painting was done at his studio, but he did visit the offices of Curtis Publishing to "sell" his paintings. It is possible that he may have had had lunch in the company lunchroom with Cyrus Curtis. Who knows?
"I just painted life the way I would like it to be. Maybe I unconsciously decided that, even if it wasn't an ideal world, it should be…" - Norman Rockwell 1894-1978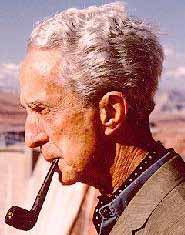 Reference: Norman Rockwell by Karal Ann Marling 1997, 102 Favorite Paintings by Norman Rockwell by C. Finch, website of Curtis Publishing Company.
Go back to page 1 of our token web pages...
On to page 41 of token web pages....
updated: 6 FEB 2000