PAGE FOUR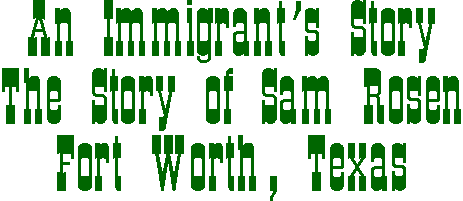 by Jerry Adams copyright © 1998, all rights reserved
ROSEN INN BAR / JONES & SPANGLER / PROPS. / NORTH FT. WORTH
GOOD FOR / 2 ½ ¢ / IN TRADE
aluminum - scalloped ( 8 lobes) -28mm (circa: 1905) (est. value= $70)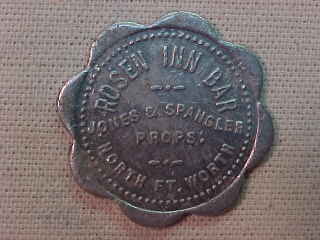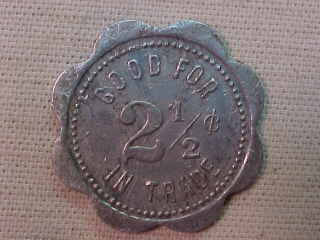 ROSEN HOTEL / BARBER SHOP / NICK PETTA / PROP. / FORT WORTH, TEX.
GOOD FOR / 1 / SHAVE
aluminum - octagonal - 25mm (circa: 1914) (est. value= $70)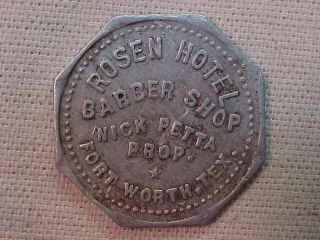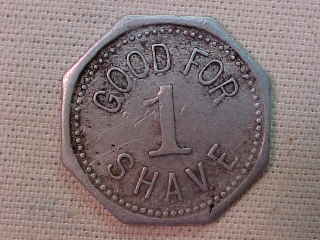 I grew up on Ft. Worth's north side, as did my parents and grandparents, so I was aware of the area called Rosen Heights since I was a child. My brother attended Sam Rosen Elementary school, so I also assumed there was someone named Sam Rosen that Rosen Heights was named for. The background of the Rosen family was discovered in a recently published book on the history of the North Side of Ft. Worth.
Sam Rosen came to the United States in 1883 by ship from Kovarsk, Russia. He was 12 years old and couldn't speak a word of English! His Jewish name had been a longer form, perhaps Rosenberg or Rosenbaum, which he shortened after arriving in America. Sam was small in stature, but knew what to do when he got here, work hard and save his money. During his first year in America he and his brother experienced the Texas summer working for a farmer south of Dallas for five dollars a week. Sam noticed that the farmer worked as hard as they did, despite the fact that he owned the land and had years of experience. Sam knew that no matter how long he saved his money and how hard he worked, he would never be better off than the farmer if he stayed there. So he quit his job on the farm and got a job in Dallas with a crockery store for a few months. He then appeared in Fort Worth selling jewelry and novelties as a peddler. Often he traveled as far west as El Paso, all the time selling and saving his money. In a few years, he had saved enough to open a small dry goods store in Ft. Worth. The building he chose to rent for his store was a small frame building on Main street, between Eleventh and Twelfth streets near the railroad station. The reason he chose this building was because of the cheaper rent, despite the fact the store was located in the middle of what was called Hell's Half Acre, the area that housed most of the town's bordellos, saloons, and flop houses.
Sam

Rosen
Sam married Betty Gordon in 1896, and they started a family. His business thrived, but Sam knew he could make more money if he had a location that was safer for women and families to shop, so in a few years he relocated his store to a building on Main between Fifth and Sixth street, barely out of the Hell's Half Acre district.
As the year 1901 approached, Sam had saved a large sum of money and was ready to make an investment that he hoped would improve his family's lot in life. When word spread that Armour and Swift planned to build a large meat packing plant on the north side of Ft. Worth, Sam beat out the "North Fort Worth Townsite Company" by purchasing a 320 acre farm on the North Side, west of North Main street at Twenty-fifth street. His plan was to subdivide the farm into lot sized tracts for resale and call the area Rosen Heights.
The year was now 1902, and few people owned cars, so Sam made a promise with each lot sold, that there would soon be streetcar service connecting downtown and Rosen Heights. The lots in Rosen Heights sold for between $250 and $400 each, which he would finance himself for $15 down and $5 per month. Within a year, 150 families had purchased lots and started or built houses. By 1903, Sam sold his dry goods business downtown, to devote all his energy and time to the real estate business. In 1904, Sam asked the city for a franchise for electric light service in North Fort Worth, and later that year also asked for a franchise on behalf of the Rosen Heights Streetcar Railway Company to lay tracks to Rosen Heights in order to keep his promise. Both were granted by the city. His troubles getting the streetcar line operational were compounded by the fact that Northern Texas Traction Company, the large operator of street railway in town, was not cooperative, and also he had to deal with two different entities, Ft. Worth and North Ft. Worth, who were separate cities at the time. By 1905 the streetcar line was up and running however, and by 1906, Northern Texas Traction bought out his little line. Meanwhile Sam saw more opportunity, got additional financing from his in-laws in Beaumont, and purchased an adjacent farm that added 1,171 acres to his holdings on the North Side.
As was common in those days, Sam built an amusement park in 1905 at the end of his streetcar line, complete with a 50 acre artificial lake, ball diamonds, amusement rides, boats, walkways and electric lights. All the buildings in the park were painted white, and the park was called "White City Park" because of the stark contrast of the white buildings with the surroundings.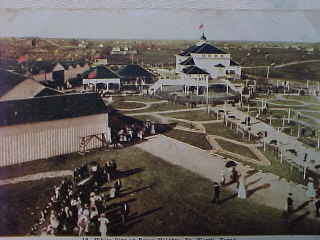 White City Park (Ft. Worth, Texas) circa: 1907
Sam Rosen's legacy lived on after his death, he had donated land for the elementary school that took his name. Many of the streets are named after his in-laws, his children and other kinfolk. The Rosen building in downtown Ft. Worth retained his name long after his business left, and the Rosen Inn on North Main Street was also the starting place for other Jewish immigrant merchants, among them the Greines family. The Rosen Inn was located at 1320 North Main street in 1907, the two story structure became Greines Furniture Company, and today still stands, today holding an antique mall.
reference: North of the River, 1994, J'Nell Pate
on to page 5 of our token web pages...
back to page 1 of our token web pages....
updated 5 feb 2000