PAGE 39

By Jerry Adams

Copyright © 2000, all rights reserved

The tokens:

THEATRE / COMIQUE / 12 ½ ¢ / J T L (all incused)

(blank reverse)

brass-octagonal- 26 millimeters (Fort Worth, Texas) (circa: 1876, estimated value $80.00) (the denomination of 12 ½ cents indicates use in a saloon where two drinks of whiskey were sold for 25 cents)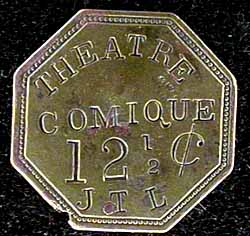 THEATRE / COMIQUE / 25 ¢ / J. T. LEER (all incused)
(blank reverse)
brass-round-29 millimeters (Fort Worth, Texas )(circa: 1876, estimated value $90.00)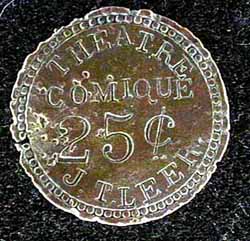 WHICH IS IT, THEATRE OR THEATER?
The word "theater" and "theatre" are used interchangeably, although I have tried to use the same spelling used in contemporary documents or references when possible.
ARE YOU SURE THEY'RE FROM FORT WORTH?
Both tokens were dug on the edge of downtown Fort Worth, and there are city directory references as well as historic references to John Leer running the Comique Saloon in Fort Worth. The history of the Theatre Comique, is intertwined with that of John T. Leer, and "Rowdy" Joe Lowe, and we will examine what we know of them here.
WHAT WE KNOW OF JOHN LEER
We don't know much of John Leer, he is listed in the 1877 Fort Worth City directory as proprietor of the Comique Saloon at the corner of Houston and Eighth Streets. Before that, he was proprietor of the Red Light Saloon. Leer sold the Red Light Saloon to frontier gambler "Rowdy" Joe Lowe in about 1876-77. There are no known (by me) photographs of John T. Leer. He spent much of the time between 1876 and 1886 sparring with city officials over charges of running a gambling parlor and sporting house.
The THEATRE COMIQUE – LEG OPERAS
An interesting phenomena occurred about 1876 in popular culture, the rise of "theatre comique", or "variety theaters". In reality, they were what was known at the time as "leg operas." These variety shows were a crude predecessor to vaudeville, and provided eastern style entertainment for the patrons. The nightly shows included comic skits, singing, dancing, juggling, and musical performances. Some of these were by traveling troupes of entertainers, some by "house entertainers". Some of the entertainment companies came from locales such as St. Louis. Contemporary accounts in local newspapers of entertainment in the Centennial theater in October of 1877 describe "two Negro delineators." Joe Lowe's partner Harry Devere played booking agent securing for the Centennial "Fay Templeton and her troupe" who would produce a "legitimate play" which ran for some time.
The 1877 Fort Worth city directory lists John Leer as proprietor of the Comique Saloon at the corner of Eighth and Houston streets, and Joseph Lowe as the proprietor of Centennial Theatre at the corner of Main and Second streets. That same year James Earp (Wyatt's brother) was working as a barkeeper in Fort Worth's Cattle Exchange Saloon at 47 Main Street.
The 1878-79 Fort Worth city directory actually has a separate listing for "Theater Comique", under which there is only one listing of: Lowe, Joseph, proprietor "Centennial", cor Second and Main. Of the same directory also lists Joe Lowe and the Centennial under saloons that same year.
The typical Theatre Comique, combined entertainment in the form of traveling shows, music, gambling, dancing girls and hard drinking. Most also were directly associated with prostitution. For instance, John Leer's saloon prior to the Theatre Comique, was the Red Light. The Red Light was a large unpainted wood clapboard building, sitting on a large vacant lot. It was located on the far eastern portion of Fort Worth, so that trail drives that stopped for the night, would be near. Cowboys could ride over to the Red Light without going through the main part of town. The inside of the Red Light was composed of two large rooms, a dance hall and a saloon. You had to pass through the saloon, to get to the dance hall. The dance floor was 30 by 50 feet, and had a bench going around the room. Dance hall girls charged the patrons 50 cents per dance. There were 10 to 25 small "apartment" around the outside of the building, which could only be entered from the outside, these were used by the girls to further separate the money from the patrons.
"ROWDY" JOE LOWE
"Rowdy" Joe Lowe was a frontier character, who had killed fellow saloon keeper "Red" Beard in Wichita, Kansas in November 1873, then moved to San Antonio with his "wife" Rowdy Kate. They ran a place in San Antonio called the Clipper, for about 3 years prior to moving to Fort Worth about 1876. There are several photographs of Rowdy Joe Lowe, and he appears from photographs and historic accounts to have been a large man, with a heavy dark moustache and his trademark top hat and black frock coat. Joe carefully cultivated his image as a genteel scoundrel. He was a charming gentleman when the occasion demanded it, he exchanged pleasantries with businessmen, tipped his hat to ladies, and held benefits for the local fire department and charities. Joe also had a bad temper. He had killed another man named Sweet, for molesting Kate prior to the killing of Red Beard, so was a well known gunman when he arrived in Fort Worth. Little is known of Lowe's origins, but it is believed he was born in New York State about 1845, and his family lived in LaSalle, Illinois in 1850.
JTL –JOE THOMAS LOWE or JOHN T. LEER ?
Joe Lowe's father's name was Thomas Lowe, and Rowdy Joe Lowe's son's name was Thomas Lowe. I do not know for sure, but strongly suspect Rowdy Joe's middle name was also Thomas. A marriage license issued to a wife Joe married in Fort Worth list him as J. T. Lowe in 1876. The reason for my interest is that would make his initials JTL, the same initials as John T. Leer, both of whom ran the Theatre Comique in Fort Worth (see the first token listed with only initials JTL). Thus making it possible that the JTL on the 12 ½ token could be either man.
"Rowdy"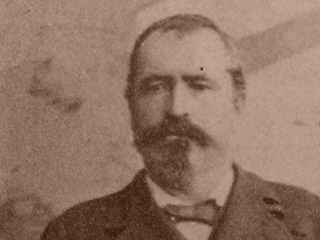 Joe Lowe
During the short period (1876-9) he lived in Fort Worth, "Rowdy" Joe Lowe owned interests in the following saloon-theaters: Centennial Theatre, My Theatre, Theatre Comique, and the Red Light Saloon. Other variety theatres in Cowtown at the time included the Standard Theater, and Holland's Variety Theater run by George Holland. Typically there was a charge for admission to these theaters, which ranged from a dime for the low-end sleaziest houses with small stages and lurid shows, to a dollar for the high end costumed performances by out-of-town dancers and performers. Joe Lowe's Centennial Theater received bad publicity in August 1878 when his bartender-manager Billy Cregier was shot and killed by Al Houter (locally known as Buffalo Bill).
"Rowdy" Joe Lowe (back left)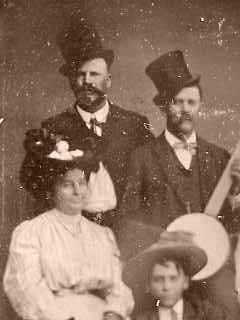 with banjo player, lady & boy
In Rowdy Joe's personal life, he announced just after his arrival in Cowtown his engagement to a Mary (or Mollie) Field, which must have shocked "Rowdy" Kate, his erstwhile traveling companion. An interview with Mollie Field in 1899 in Denver, she told the press that she had married Joe Lowe in Fort Worth in 1877. A search of marriage records in Fort Worth reveal a license issued on July 31, 1876 to a J. T. Lowe and Mollie Field, and that couple were married on August 2, 1876 by C. W. Berry. (Mollie claimed there were 5 other Mrs. Lowes before her!)
WHAT THEATRE COMIQUE WAS LIKE
Although I have not found a good description of the Theatre Comique, it was likely very similar to the Centennial, and we have a good description of it. The Centennial was a two-story building, lit by gas lamps, with a bar, dance floor and theater on the first floor. The actual building was eighty feet long, with a stage 18 feet by 22 ½ feet. The stage was at the rear, with the bar running the length of one side of the first floor. The second floor was composed entirely of rooms for gambling and private rooms for the "actresses." On a balcony surrounding the first floor was a "gallery" where the actresses flaunted their wares while not on stage. Gentlemen were encouraged to visit the actresses in the gallery, and could purchase a key to the lady's room for a dollar, and have his visit undisturbed for an additional fee. Patrons in the Centennial numbered from one to two hundred per night in the late 1870's. It can be assumed that the Theatre Comique also enjoyed the same popularity.
EXIT STAGE LEFT
The Fort Worth Democrat (newspaper) reported on December 1, 1878 that Joe Lowe wanted to sell the Centennial and move on to Leadville, Colorado. Six days later, the same paper reported the details of a case in County Court in the State of Texas vs. Joe Lowe. "Which was tried in the county court yesterday, the jury found a verdict of guilty and assessed a fine of $100. It was strenuously fought on both sides. ….The result of the case is that the jury found the house to be a disorderly house within the meaning of the law. The charges of the court, on which the case hinged, were: First, that the employees of the house, though they lived in the house, must be freed from the taint of bad reputation as to virtue. The defendant contending that they were not resorting there, but lived there, and hence the house could not come under the definition of a common resort for prostitutes. Second, for the defense, he ruled where parties under a bad reputation for virtue visited such places as the one in question, the Centennial Theater, that if they behaved themselves as decent people and committed no lewd acts, they were entitled to witness theatrical performances as other people. The County Attorney insisted that though they acted in every way decent, yet having a lewd reputation, they were under the denunciation of the statute."
Fort Worth, Texas as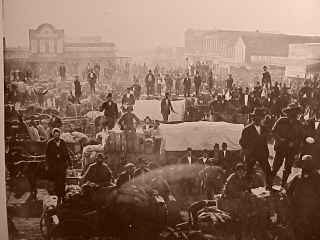 it appeared in 1877
The Comique Saloon is listed in the city directories only in the years 1877 through 1879, and the Centennial Theater listed only in 1877 through 1878. John Leer was listed in 1876, and 1877, Joe Lowe in 1877 through 1879. Leer disappeared into the mists of history, Joe Lowe moved on to Leadville, and Denver. On February 11, 1899, while unarmed, he was shot dead inside Mart Watrous's saloon at 1526 Curtis Street in Denver. The man who shot him was an ex-policeman named Emmanuel A. Kimmel.
Rowdy Kate Lowe, after moving on from Fort Worth, arrived in Weatherford, Texas. On May 18, 1877 the Jacksboro Frontier Echo noted that Weatherford was in a rage over Kate Lowe, alias Rowdy Kate conducting a "den of infamy" within the business portion of the town. A search of county records reveals charges against her on four occasions that year for "keeping a disorderly house." She moved from on from there, making further stops in Fort Griffin, and San Angelo. Rumor has it she settled down in San Angelo and became a respected citizen.
NUMISMATIC CHARACTERISTICS OF THESE TOKENS
Looking for characteristics of "dated" tokens, sometimes helps to date other tokens, and narrow search windows for mavericks. Therefore, since both these tokens date from the era of 1876-79 (say 1877 for convenience), what are the characteristics of these two tokens, both obvious and subtle?
Both are brass & uniface with incuse lettering and incuse beaded borders

Saloons of the era, evidently had use for both 12 ½ and 25¢ tokens

Saloons in this era evidently made use of changing token shape to correspond with different denominations, much like general stores

Saloons of this type saw fit not to put town and state on some tokens

Size of the token sometimes dictated if the proprietors name or initials were on the token

Keep in mind, the socio-economic class of this saloon with these observations
References: Various Fort Worth city directories; "Rowdy Joe Lowe, Gambler with a gun" by Joseph Rosa and Waldo E. Koop, "Hell's Half Acre" by Dr. Richard F. Selcer, "Knights of the Green Cloth" by Robert K. DeArment; personal correspondence with Joseph Rosa; interview with Dr. Richard Selcer. Thanks to Robert Stone, for providing the tokens for illustration, and for information about the tokens.
Go to page 40 of our token web pages...
Back to page 1 of token web pages...
updated: 20 may 2001