PAGE 36

By Jerry Adams
Copyright © 1999, all rights reserved
The token:
NCO MESS / CARSWELL / AFB
GOOD FOR / $1oo / IN TRADE
Aluminum-hexagonal-31mm (Cunningham TX620g, Curto A46-100, circa: 1948-1969) (There are about two dozen different tokens from Carswell Air Force Base)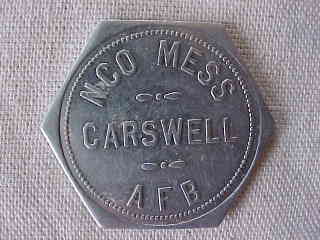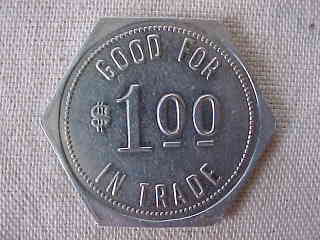 For those unfamiliar with military jargon, NCO stands for non-commissioned officers, AFB means air force base, and MESS refers to the "cafeteria", or building where meals were served.
In the movie Saving Private Ryan, the story line was about the attempts of Captain John Miller's squad to save the life of Private James Ryan. "Saving Private Ryan" was a stirring work of fiction, but the following is the story of a real person, a real hero of World War Two, named Horace Seaver Carswell, Jr.
Carswell Air Force Base (now deactivated) in Ft. Worth, Texas was named for Major Horace Carswell. What kind of man, gives up all of his tomorrows, all of his hopes and dreams, in an attempt to save the life a comrade in war?
Horace S. Carswell came from a middle class family; four of his uncles were Methodist preachers. Horace was born in Fort Worth on July 18, 1916, the son of Horace S. and Bertha Carswell.
Horace's family lived at 1614 Denver Avenue on Fort Worth's northside. Horace, or Stump as he liked to be called, attended church at Boulevard Methodist Church. His father worked at Swift's meat packing plant on the northside. Horace and his father liked to go fishing together, and after he was big enough, Horace also worked summers at the packing plant. Horace attended North Side High School, where he played football. He was a heck of a football player, saw a lot of play on the small North Side team, and scored the winning touchdown on an Armistice Day game against the tough Wichita Falls team in 1933.
After graduation from North Side, Horace attended college at Texas A&M for a year, and then in Fort Worth at TCU (Texas Christian University) where he also played football. At a short but stocky 165 pounds, he was light by today's standards for the fullback position he played.
On a double date at TCU, Horace met a coed featured in one of the yearbook beauty pages, by the name of Virginia Ede. Virginia was from a ranching family from the west Texas town of San Angelo. Later Horace would meet Virginia again in San Angelo. "Stump" graduated with a degree in business administration from TCU in 1939.
Horace worked for a short time for an insurance company. Then in March 1940, Horace joined the Army Air Corps. He started as a flight cadet, and after training, graduated from flight school as a second lieutenant in November of 1940. While stationed at Goodfellow Field in San Angelo, Texas, Horace married Virginia Ede. Horace was a good pilot, and a daredevil, who flew a plane down and buzzed TCU's Goode Hall, and his father-in-law's cow camp on the Concho River.
Horace and Virginia's marriage was a happy one, and their son, Robert Ede Carswell was born at Clovis Army Air Field in September 1943.
World War Two was raging across the world, Horace was promoted to Major and deputy commander of the 308th Bombardment Group in the Pacific Theater. He was flying B-24 Liberator bombers out of China by the spring of 1944. General Claire Chennault's Fourteenth Air Force was mainly known for the shark nosed fighters, but also had a small force of B-25 and B-24 bombers. They were used mainly in solo attacks and patrols, and also fly supplies "over the Hump" to China. In an early action, he was shot down over the Himalayas, and was able to get back to base, before the news got back to his wife and family.
Horace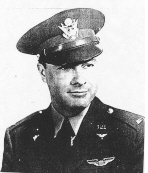 Carswell
On Oct. 15, 1944, five months after he joined the 308th Group, Stump Carswell distinguished himself in combat. In the late afternoon, he flew a B-24 out of Liuchow on a solo sweep over the South China Sea, where he came upon a Japanese naval formation. In the first attack on a Japanese cruiser, Carswell's crew made two direct hits, and blew up the enemy ship. Three more bomb runs on a Japanese destroyer scored one direct hit that put that ship out of action also!
On the night of October 26-27, 1944, he was on a single aircraft bombing mission against a Japanese convoy in the South China Sea. His bombing run was made at 600 feet above the waves. He made a second bombing pass over a very alert Japanese convoy, and scored two direct hits on an enemy tanker. The B-24 had inflicted serious damage on the enemy, but two of the four engines were knocked out. As Carswell steered the aircraft back home, the third engine began to fail just as he managed to get the crippled warbird over land. Carswell realized the peril and ordered the crew to bail out. Eight of the crewmen bailed out, but the bombardier, Lt. Walter W. Hillier of Chicago, reported his parachute was shredded by flak. Carswell would not bail out and leave Hillier and the wounded co-pilot, Lt. James O'Neal (of Maywood, Illinois). He chose instead to stay and try to crash-land the heavy bomber. As the B-24 continued to loose power, Carswell struggled with the controls, but the bomber didn't have enough power to clear the mountains, and it slammed into a peak and exploded. The last man of the eight who parachuted safely from the airplane, was Staff Sergeant Charlton Schnepf of Hicksville, New York, who reported that just before he jumped, he saw the bombardier kneeling on the flight deck, beside Major Carswell, and co-pilot O'Neal, who were both in their flight seats looking straight ahead. Carswell had died trying desperately to save Hillier and Schnepf.
THE MEDAL OF HONOR
In 1946, Major Carswell was posthumously awarded the Medal of Honor for his actions on October 27, 1944. For those who may not be familiar with the hierarchy of U.S. military decorations, the Medal of Honor is the most highly defined award possible in military service.
For his actions on the previous mission of October 15, 1944 he was also posthumously awarded the Distinguished Service Cross. Horace Carswell died in service to his country at age 28, he was an only child. In an interview with a newsman, before that last flight, he told the reporter that his father had wept the night before he had left for primary flight training.
On February 27, 1948, the name of Fort Worth Army Air Field was changed to Carswell Air Force Base to honor the only member of the Fourteenth Air Force, and the first person from Fort Worth to win the nation's highest military decoration, the Medal of Honor. Throughout the 1950's and 1960's, Carswell Air Force Base was a Strategic Air Command (SAC) base. Being adjacent to the "bomber plant" (later named General Dynamics and now Lockheed Martin), it was home to B-24's, the B-36, F111's, F16's, and most memorable the giant B-52 intercontinental bombers. The Jimmy Stewart movie Strategic Air Command was filmed at Carswell Air Base.
Carswell Air Force Base was deactivated about ten years ago and is now known as the Naval Air Station & Fort Worth Joint Reserve Base.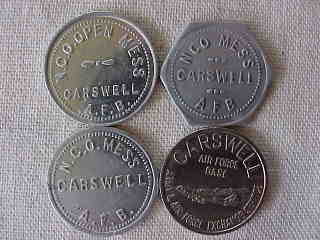 EPILOGUE
In researching this article, I was again struck by the "small world" phenomena. Major Carswell had attended the same small (300 student) high school that my mother, uncle, brother and myself had attended. Indeed, he was the same age as my mother. He had lived only about 6 blocks from where I grew up in 10 years after his death. He had attended church across the street from the church my family attended. I suspect that if "Stump" Carswell could talk to us across the years and mortal bounds, he would repeat the words of Captain Miller in Saving Private Ryan : "Earn this!"
---
transcript of a letter to a Mrs. Bixby, written by Lincoln:
Dear Madam,
I've been shown in the files of the war department, a statement of the Adjutant General of Massachusetts, that you are the mother of five sons who have died gloriously on the field of battle. I feel how weak and fruitless must be any words of mine, that would attempt to beguile you from the grief of a loss so overwhelming. But I cannot refrain from tendering to you the consolation that may be found in the thanks of the Republic they died to save. I pray that our Heavenly Father may assuage the anguish of your bereavement, and leave you only the cherished memory of the loved and lost, and the solemn pride that must be yours to have laid so costly a sacrifice upon the altar of freedom.
Yours very sincerely and respectfully,
Abraham Lincoln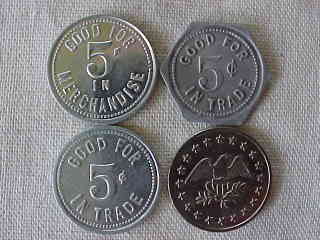 references: Air Force Magazine, Handbook of Texas, Fort Worth Star Telegram.
More information on Horace Carswell from the Tasmanian Numismatic Society
Back to page 1 of our token web pages...
Go to page 37 of our token web pages...
updated : 5 feb 2000