PAGE 37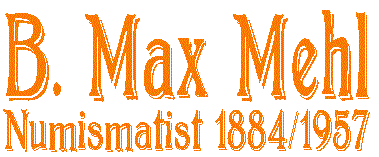 by Jerry Adams
in memory of Robert Fleet, Texas token collector
Copyright © 1999
the token:
B. MAX MEHL / (horseshoe)/ GOOD/ LUCK/be/ with/ you/ NUMISMATIST-FORT WORTH, TEXAS
(picture of Hindu god "Hanuman")
copper-round-31mm (circa: 1916-1957) (Note: there is also a white metal token that is almost identical, wording is the same, but obverse die is slightly different, the easiest difference to spot is the absence of the small leg to the left on the bottom of the "u" in the word "you" which is on the copper token)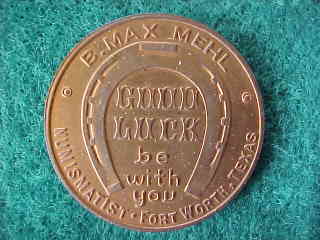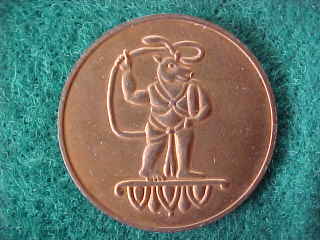 WHAT IS A NUMISMATIST?
Benjamin Max Mehl was born in 1884, and was shoe clerk before entering the field of numismatics in 1903. He rose from a simple home office in 1903, to become America's most famous coin dealer of the first half of the 20th century.
Recently deceased local legend R. E. "Bob" Wallace got his start in coin dealing by buying coins and selling them to Mehl for a small profit.
Mehl's real claim to fame, was his promotions and advertising. He was one of the first coin dealers to recognize the possibilities of national advertising. He placed his first ad in the December 1903 issue of the Numismatist. In March of 1904, he issued the first of many coin booklets, which became a standard reference in this country before the first "red books." His 1904 booklet was entitled "Catalogue of Fine Selections of Choice United States Gold, Silver, and Copper Coins, Private and Territorial Gold, United States Fractional Currency, etc., etc."
In 1906, Mehl spent $12.50 on an ad in Colliers magazine. Also in 1906, he gave up the home office, and rented desk space in a downtown office. By 1907 he had his own office at 1309 Main Street.
THE STAR RARE COIN BOOK
Mehl actually had two separate businesses, one was the Star Rare Coin Company, and the second was the Numismatic Bank of Texas. The Numismatic Bank of Texas sold copies of the Star Rare Coin Encyclopedia to the public for 50 cents per copy. So great was the response to Mehl's advertising campaigns, that at one time mail addressed to him accounted for more than half of the incoming mail at the Fort Worth post office.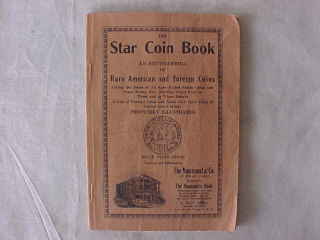 Mehl's success led him to move his office to New York in 1912, but he stayed only a few weeks. He returned to Fort Worth, leased half a floor in a downtown building and with his staff of ten. More advertisements, more Star Coin Books followed. By 1916 Mehl hired local architect Wiley G. Clarkson to design his own office building. Work was soon completed on the "Max Mehl Building" at 1204 W. Magnolia, just south of downtown. The 3-story 15,000 square foot building was a big investment for Mehl, but gave him independence from landlords, and increased his net worth.
By 1924, Mehl's advertising budget was up to $50,000 per year, which for the era, was an enormous amount! He eventually even branched out from printed advertisements, to radio spots. The advertising gimmic that Mehl is most often remembered for was offering the princely sum of $50 for any 1913 Liberty nickel sold to him. This was during the depths of the economic depression of the 1930's, and it really started a lot of people looking at what pocket change they had. Mehl of course knew there were only five of these nickels and there was little chance he would loose money on any such deal, even if one was offered to him.
MEHL'S FAMILY AND HOME
Mehl's wife was named Ethel, and they lived at 1124 South Henderson Street, just a few blocks from his business. Other family members owned apartments, clothing and shoe stores in the city, and were active in the Hebrew Relief Society.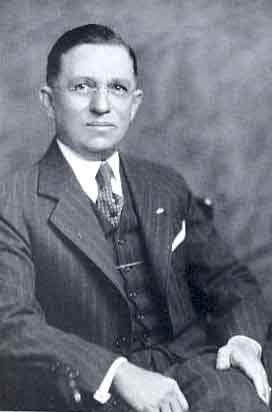 B. Max Mehl
CLIENTS AND COINS
Over the years Mehl bought and sold coins of the common man, but some famous people were counted among his clients also, including Winston Churchill, Franklin D. Roosevelt, and Amon Carter. Among the famous coins to pass through his shop, was the 1804 dollar. One of the famous collections sold by Mehl, was that of William Forrester Dunham (1857-1936). His collection included an 1804 silver dollar, 1822 half eagle, 1802 half dime, the largest collection of encased postage stamps ever formed, and an extensive collection of Hard Times tokens. Mehl sold the collection on June 3, 1941 with a total of 4,169 lots bringing in $83,364.08!
THE B. MAX MEHL LEGACY
If you measure the legacy of a man, by the number of lives he touched, then B. Max Mehl was a great man. He did more to popularize the hobby of coin collecting in this country than any other person in this century! The Mehl building still stands on Magnolia Street as a monument to his ambition.
References: Q. David Bowers, Coin World Almanac, various newspapers and local collectors.
Back to page 1 of our token web pages...
Go to page 38 of our token web pages...
updated: 1 march 2001