PAGE 15

by Jerry Adams, copyright © 1997 and 2001
the token:
SHEEHAN'S / 705 / MAIN ST. / FT. WORTH, TEXAS
GOOD FOR / 12 ½ / CENTS / IN TRADE
brass-scalloped ( 8 lobes) - 29mm (circa: 1900-1901)(est. value: $90)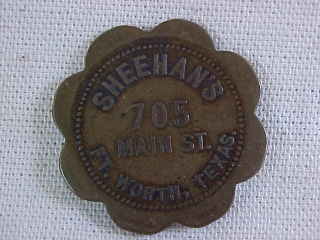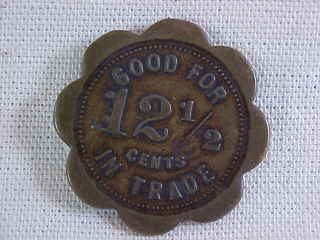 Much of the joy I find in token collecting comes from the fact that tokens are tied to a specific state, town and merchant. Once in a while you are lucky enough to tie a token to a specific historical event or person. So it is that the Sheehan's Place token is tied to the well known photograph of Butch Cassidy and the Sundance Kid.
Butch Cassidy's gang came to Ft. Worth after the September 19, 1900 bank robbery in Winnemucca, Nevada. The five central figures of the photograph, Butch, Sundance, Harvey Logan, Ben Kilpatrick and Bill Carver had split up after Winnemucca and arrived by different routes in Ft. Worth.
The main purpose of the Ft. Worth reunion was a last hurrah before the departure of Butch and Sundance for South America. Flush with $33,000 in gold and banknotes, they had several hangouts in Cowtown's "Hell's Half Acre," among them Maddox Flats at 1014½ Main Street, and the Randall Apartments.
SOME NEW CONCLUSIONS ON ETTA PLACE
From research, I have come to conclusions on certain questions concerning the Wild Bunch. One big question, is who was the lady known as Etta Place? I believe the lady known as Etta Place, was Mattie Place, who ran a boarding house at 511 East 4th in Fort Worth and is listed in the 1901-02 city directory. A simple changing of the order of certain letters in Mattie, would produce the name Etta. Etta Place, was the lady companion of Harry Longabaugh, and accompanied him to New York, and later to South America. She later evidently returned to the United States, leaving behind Butch and Sundance. "Butch Cassidy's" (George Leroy Parker's) mothers name was Place also, and she could have possibly been some kin to his mother's family. Miss Lizzie Maddox ran the "furnished rooms" known as Maddox Flats at 1014 1/2 Main street. Also there is a story that the house of prostitution run by "Fannie Porter" was in Fort Worth (or San Antonio). There was a Mrs. Mary Porter running a boarding house at 1106 Rusk, in the heart of Hell's Half Acre, in 1899-1900, and I believe that is "Fannie Porter." Butch Cassidy whose real name was George Leroy Parker, was also known as "Jim Lowe." His Cassidy name came from a Mike Cassidy that he had known in Utah, and a Mike Cassidy was running a saloon in Fort Worth about 1900 also. Other names from the gang included Laura Bullion, Harvey Logan (known as Kid Curry), Will Carver, Ben Kilpatrick, "the Sundance Kid" (Harry Alonzo Longabaugh), Lillie Davis, and Maud Walker.
Since the gang had never committed a crime in Texas, the area was considered a safe hideout. Their staggered arrivals, from late September to early October, coincided with the October 10, 1900 start of Buffalo Bill's Wild West Show in Ft. Worth, an event that attracted 11,000 people.
In December 1900, the gang decided to have a group photograph taken by photographer John Swartz at his second floor studio over 705 Main Street. Downstairs at 705 Main was Sheehan's Place saloon.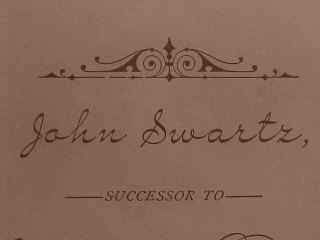 The saloon was named for John P. Sheehan, who had been in the saloon and billiard business in Ft. Worth since 1882. The proprietors of the saloon were Oscar Lenglet and John Conway (of Pecos, Texas). Photographer Swartz most likely had a display downstairs in the saloon window.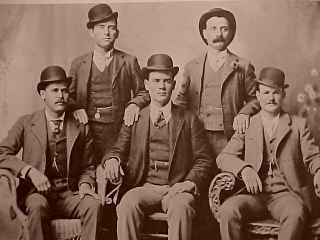 Photo taken at 705 ½ Main St.
Standing left to right: William Carver, Harvey Logan
Seated left to right: Harry Longbaugh (Sundance Kid), Ben Kilpatrick, Robert Leroy Parker (Butch Cassidy)
The photographer was so proud of this group photo that he place a copy in the downstairs window where it was spotted by a passing Wells Fargo agent who recognized Harvey Logan. (The Wells Fargo office was at 817 Main Street.) Pinkerton agents and lawmen descended on downtown Ft. Worth, and the Cassidy gang fled in all directions.
On February 20, 1901, Butch, Sundance and Etta Place boarded a ship in New York, bound for South America. By May 15, 1901, the first wanted posters of the gang bearing the photo likenesses taken at 705 Main Street rolled off the presses.
The Sheehan's token was most likely in use at the same time that the photo was made. I would guess that the group may have had a drink in this saloon beforehand, judging from the grin on Cassidy's face.
references: Sundance, My Uncle, by Donna Ernst; The Outlaw Trail, The Story of Butch Cassidy by C. Kelly; In Search of Butch Cassidy by Larry Pointer; Etta Place by Gail Drago; The Authentic Wild West by James D. Horan; Pictorial History of the Wild West by James D. Horan; The Wild Bunch at Robbers Roost by Pearl Baker; city directories of Ft. Worth, Texas
on to page 16 of our token web pages....
updated : 24 Jan 2001