PAGE NINE

by Jerry Adams, copyright © 1998, all rights reserved
P. J. WILLIS & BRO. / ONE / LOAD / GALVESTON, TEXAS
(UNIFACE)
vulcanite-black-round-29mm (circa: 1870-1882, truly one of the older trade tokens from the state of Texas, estimated value: $180-$350)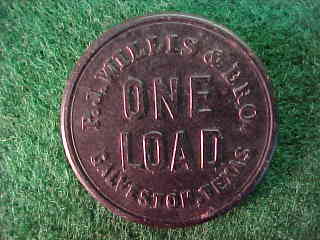 Listed in 1870, 1876 and 1882 Texas Bradstreet as wholesale grocers and dry goods.
This token was used as a drayage token, in Galveston, Texas. The use of vulcanite as opposed to metal, makes some sense in the salty air of the Galveston loading docks.
Peter J. Willis was born in Delaware on March 26, 1815; his parents soon moved to Caroline County, Maryland, where Peter passed the years of his youth on his father's plantation. Having completed his education, Peter was lured away to the distant land called Texas, then a portion of Mexico, and arrived in January 1836, just over a month before the fall of the Alamo. He became an active participant in the historic struggle for independence. Young Willis was impressed with the possibilities of the equally young Republic of Texas. A trip back to Maryland in June of 1836 lasted only until October the same year. Then he returned to Texas, this time with his two younger brothers Richard and William. They went to work on Buffalo Bayou supplying wood to steamboats, until they had enough money to open a store in the town of Washington on the Brazos.
In 1843, William Willis died of malaria, from working in the Brazos bottoms, and the two remaining brothers moved to Montgomery, Texas, and began merchandising under the name of P. J. Willis and Brother.
In 1845, Peter married Miss Caroline Womack, of Alabama.
The two brothers purchased interest in the business of McIlhenny & Hutchings, of Houston in 1858, and the firm was known as McIlhenny, Willis & Bro. until McIlhenny's death in 1862. Thereafter the business was known as P. J. Willis & Bro. This was about the time they began the wholesale portion of their business. The railroads were branching out from Houston, and business was good. In 1867 they moved the business from Houston to Galveston, opening on the northwest corner of Twenty-third and Strand streets. In 1868 the firm purchased the property at the corner of Twenty-fourth and Strand, and constructed a massive structure to house their wholesale business, at a cost of $140,000, completed and occupied by the fall of 1869.
Peter Willis was the father of six children, one of whom died in 1863. His daughters were Mrs. J . G. Goldthwaite, Mrs. George Sealy, and Mrs. W. F. Ladd. His sons William H. and Peter J., maintained the firm with his son-in-law J. G. Goldthwaite, after Peter J. Willis' death of "dyspepsia" on November 25, 1873 at St. James' Hotel, in Kansas City.
Today, the site of P. J. Willis & Bro. wholesale grocers building is within "The Strand" historic district of Galveston, with 32 National Historic Landmarks and Districts listed in the National Register of Historic Places. Thousands of tourists walk "The Strand" each year.
on to page 10 of our token web pages...
updated 5 feb 2000