PAGE 57
J. K. MOORE
Post Trader
Camp Brown, Wyoming
by Jerry Adams , NTCA member 105
copyright ã 2003
the token:
J. K. MOORE / POST TRADER / CAMP BROWN
VALUE . / 1.00
Brass-round-41 mm
(circa: 1871-1878) (Camp Brown, Wyoming)
(listed in Cunningham's "Military tokens of the United States" as series WY40, and WY50a, Curto C10, C11) (Curto and Cunningham both assert that J.K. Moore is the same Moore that issued tokens as a member of Moore & Sweet at Fort Quitman, Texas in 1871)
(Camp Brown, W.T. was first called Camp Auger 1869-March 1870, then Camp Brown until 1878, when the name was change to Fort Washakie, W.T. ; Wyoming was a territory until statehood was affirmed on July 10,
1890)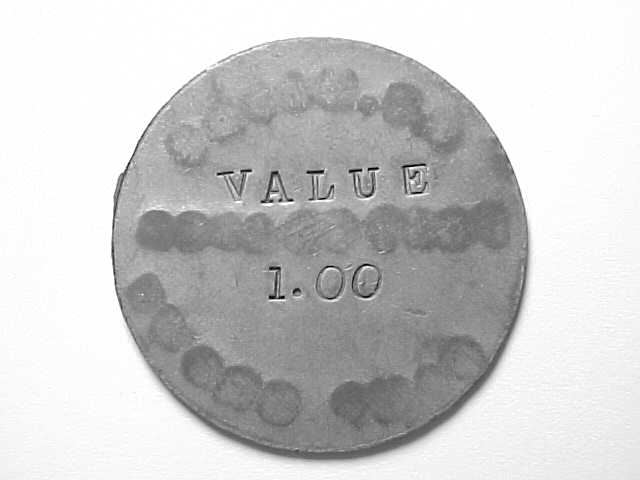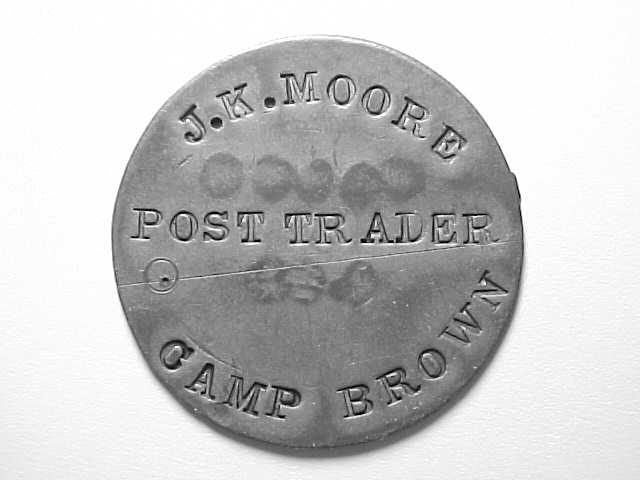 J.K. MOORE'S FAMILY TREE
J. K. (James Kerr) Moore's paternal grandfather was also named James K. Moore, and he immigrated to the U.S. from Ireland in 1801. He settled in Washington, D.C. where he found employment with the printing firm of Blanchard-Mohun. There he printed a newspaper called The National Intelligencer. Later he took a position as an accountant with the U.S. Department of the Treasury, where he worked until his death in 1853. James Kerr's father was Robert Lowry Moore, who was born in 1815 in D.C. He moved to Henry County Georgia in 1838 in hopes of acquiring land in a Georgia state lottery of lands previously owned by the Creek and Cherokee Indians. He was not able to acquire any land however, due to circumstances. He married a lady by the name of Ann Johnson Askew. She died in 1840, likely in childbirth, whereupon Robert L. Moore married her younger sister Mary, only a month after Ann's death. They moved to a farm near Georgetown, Georgia on the Chattahoochee River, and across from Eufaula, Alabama.
J. K. MOORE - BIRTH AND CHILDHOOD
The first child of the marriage of Robert L. Moore and Mary Askew was our man, James Kerr Moore, having been born on February 14, 1843. Four more children were born to the couple by 1851, three girls and one boy. Including a girl from Robert's first marriage, the total number of children the couple were raising was six. By the 1850's, a cholera outbreak hit the family hard, killing the mother, father and J.K.'s only brother. His father's younger sister was still living in Washington, D.C., and she stepped in to provide a home for the surviving five children. Her name was Rebecca Moore Bigelow, although the children called her "Auntie Bigelow". In those days, things were different, and children went to work at tender ages. J. K. Moore was no different. He went to work at age 12 as a page for the U.S. Senate. His grandfather's political connections in the Washington political scene paid off! J. K. worked as a page in 1855 and 1856, and received a promotion to bailiff for the U.S. Supreme Court. He stayed at that position until about 1861. He made many friends in the halls of congress and the Supreme Court, that served him well in later years. According to one story, President Abe Lincoln met James K. Moore while he was working in the government enclaves, and Abe asked J. K. "How tall are you son?", to which J. K. replied that he was six foot two inches tall. Lincoln replied that he could still "lick salt off the top of his head".
J. K. MOORE - AGE 18
So about the spring of 1861, J. K. left his jobs with the government for a more lucrative position with his grandfather's old employer of McClelland, Blanchard and Mohun, Publishers and Stationers. He remained living with his Auntie Bigelow until this point, however after he started his new job with the publishers, he was graciously invited to live with the family of one of the owners. He moved in with the family of Mr. Valentine Blanchard, and became good friends with the boys of that family, William and Valentine, Jr. Valentine Jr. was called "Vod" and J. K. became known as "Flick". Mrs. Francis Valentine was like a second mother to J. K. and he always remembered her fondly in later years, sending her money and gifts, perhaps thinking of his own poor mother who died of cholera.
J. K. MOORE - MOVING WESTWARD
By 1864, as the Civil War was nearing an end, J. K.'s health began to fail, perhaps due to consumption. Doctors advised him to move to a healthier climate.
J. K. had two letters of introduction, one signed by justices of the U.S. Supreme Court and the other letter by Col. William Seldon, former U.S. Treasurer for whom his grandfather had worked. He took those letters, his belongings and joined several friends and headed west. They first road the Hannibal and Saint Joseph Railroad as far as Saint Joseph, Missouri, and then took a steamboat up the Missouri River to Omaha, Nebraska.
At Omaha, J.K. managed to acquire a spot on an emigrant wagon train heading to Fort Laramie, Wyoming Territory. He paid his remaining cash and worked as a bullwhacker driving an oxen wagon for the wagon train. The trip to Fort Laramie was exciting for J.K., and arriving at Fort he discovered that another wagon train was preparing to head out for the goldfields of Virginia City, Montana. There was quite a buzz about this wagon train, as it was led by none other than Jim Bridger, famous mountain man, trapper, trader, hunter and guide. Bridger was going to lead this wagon train on a new alternative route to the old Bozeman trail. Bridger's new route differed in that it stayed west of the Bighorn Mountains, and traversed Shoshone and Crow Indian lands, tribes with which Bridger had a good relationship. J. K. managed somehow to talk his way into joining the Bridger wagon train.
During the wagon trek from Ft. Laramie to Montana, near the present day towns of Lysite and Lost Cabin, Wyoming, the Bridger party parleyed with a group of Shoshones who were hunting buffalo. Indian tradition dictated that the whites and Indians would hold a large feast on freshly killed bison that lasted late into the night. Many gifts were exchanged. During this celebration, Chief Washakie the leader of the Shoshones was introduced to J. K. Moore. Bridger presented Chief Washakie with a paper declaring him an friend of all white men, and several gifts that were suitable for the occasion.
The Bridger party including J. K. Moore arrived at Virginia City, Montana on July 10,1864. The trip from Ft. Laramie to Virginia City, Montana had gone 510 miles and taken 55 days. In later trips on the same trail, it only took 38 days, however this had been the first trip on the new route, and many delays were encountered hacking through brush and building rafts to cross rivers.
VIRGINIA CITY, MONTANA TERRITORY
Virginia City, Montana Terr. was a gold mining boom town, formed in 1863 with a gold strike at Alder gulch. By 1864 when J. K. arrived the population in the town had swelled to 10,000 souls. The town had by then churches, shops and even a school. A spur Overland Stage Line had been established by Ben Holliday between Virginia City and Salt Lake City, Utah.
It is believed that J. K. worked as a clerk in mercantile store in Virginia City his first year there. He also traveled the 18 hour trip by stage to Helena, M.T. during that year. He later remarked that buffalo robes were about the only thing that kept the passengers from freezing in the stagecoach.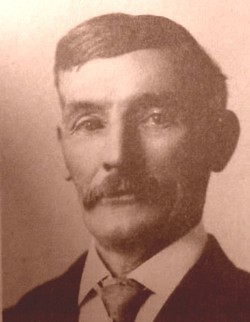 J. K. Moore, Post Trader
J. K. MOORE - ESTABLISHING A BASE
By 1866, J.K. decided to move again, this time heading south to Bear River Junction, Utah (later called Bear River City). There he found work as a station agent for the Holliday Stage Line. J. K. worked as a stage agent for two years, 1866 and 1867. In 1868 when the Union Pacific Railroad reached the area, J. K. opened up a mercantile business in partnership with Russell Thorp, who had been a freighter on the Overland Trail. At this point of his first owned enterprise, J.K. was 25 and his partner Thorp was only 22.
The town of Bear River had swelled in size in anticipation of the arrival of the railroad. The population in 1868 was 2000 and it boasted 140 buildings, including the Thorp and Moore Mercantile business. However a dark cloud was on the horizon for Bear River City, Utah. It became known as the Bear River Riot, and occurred in November of 1868. A number of the town's business owners including J.K. formed a vigilante committee, and arrested several men for breaking the law. Three of these outlaws were hung by the vigilantes. This so enraged the local railroaders and laborers, that they attacked the temporary jailhouse, freeing the remaining prisoners, and burning down the offices of the town newspaper. The vigilante committee fearing for their safety holed up in the Thorp and Moore mercantile store, and sent out a call for help to Fort Bridger. By the time the troops had traversed the 25 miles from Ft. Bridger, the townsfolk were back on an even keel. However, the riot had influenced the railroad to bypass Bear River in favor of Evanston. The town of Bear River was virtually deserted overnight.
J. K. MOORE - FORT BRIDGER - CARTER STATION
While Russell Thorp moved on to Evanston, Wyoming, J. K. departed for Fort Bridger, Montana Territory. He found a job working as a clerk at the trading post of William Alexander Carter.
W. A. CARTER / POST TRADER / FORT BRIDGER
VALUE / 25 CTS.
Brass-round-23mm (Cunningham number WY10; Curto F30) (Thanks to Ron Lerch for photographing his token for this article)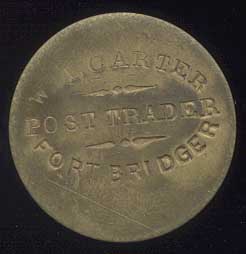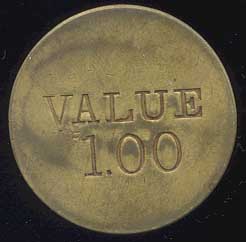 Carter was 50 years old in 1868 when J. K. arrived, and was a well respected member of the community, having run the trading post at Ft. Bridger for 10 years. He also ran a mercantile store, a lumber yard, was the postmaster, Justice of the Peace, and Probate Judge for Green River County.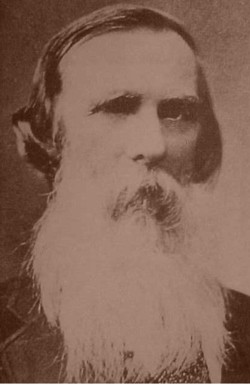 W. A. Carter, Post Trader
W. A. Carter had kept his business mostly a family run business, having his two son-in-laws (Charles A. Becker and Maurice Groshon) as clerks. Ten miles north of Ft. Bridger where the railroad passed, Carter established a depot store dubbed Carter Station. Judge Carter deemed J. K. Moore a valuable employee, despite the fact he was not a family member, and assigned him to work at the Carter Station warehouse for his brother Richard Carter.
In March of 1869, J. K. Moore became the first postmaster of Carter Station, serving the small community that had sprouted around the store and depot there. The small community of Carter Station also served as a stage stop, and freighting depot for Virginia City and Ft. Duchesne, Utah.
The Fort Bridger Treaty of 1868 with the Shoshone and Bannock Indians had created a large reservation for the tribes in the Wind River Valley of Wyoming, 150 miles north of Ft. Bridger. In March of 1869 the Army ordered the establishment of a military post on the Shoshone-Bannock Indian Agency reservation, the post was to be named Camp Auger. Judge Carter saw the opportunity and advised young J. K. Moore to apply for a post traders license at the newly established fort. J. K. Moore could have hardly asked for a better recommendation than that of Judge Carter, given his high esteem in the region, and J. K. Moore was granted the post trader license in July of 1870.
CAMP AUGER = CAMP BROWN
In March 1870, the name of the military post was changed from Camp Auger to Camp Brown. A year later in 1871, the post was moved closer to the Indian Agency 15 miles north, and on Trout Creek.
THE J. K. MOORE TRADING POST - CAMP BROWN, W.T.
J. K. Moore was given a credit of $4,000 from Judge Carter, J. K. purchased wagons and goods to establish his business and headed north to Camp Auger. The soldiers and Moore established the camp on the Popo Agie River, a tributary of the Big Wind River. In November of 1870, Moore was also granted a license to be the official Indian trader at the post. Moore's bond for the Indian trader license was posted by a physician named James Irwin from the town of Atlantic City, Wyoming (Atlantic City is about 30 miles south of Camp Brown/Ft. Washakie). Dr. Irwin of Atlantic City was also a Justice of the Peace, and he was appointed Indian Agent at the Wind River Reservation in 1871. Agent Dr. Irwin relied heavily on post trader J. K. Moore to provide flour, beef and other necessities for the reservation for years.
The first structure that J. K. Moore built for his post trader store was in 1871, and was a rough hewn log structure chinked with lime plaster. The log structure measured about 32 feet by 42 feet, and was split by a partition to divide the stock from the store proper. Moore lived in the southwest corner of the structure until he could build a house some three years later. The northeast corner of the log building housed the store office and the post office. The northwest corner of the structure had a 12 by 14 foot root cellar. J. K. Moore became the postmaster of the location in 1875, and retained that position until 1909.
In 1877 the store was enlarged by adding another 32 foot length to the building, also from hewn logs and lime plaster chinking. Moore also had a separate 20 by 20 log warehouse built by 1877, and a stable, cabins for his employees and a deep well. In the early 1880s, a 25 foot by 26 foot stone structure was added onto the original log structure. This stone structure became the store office and post office.
J. K.'s store did a great business, both with the Indians and with the soldiers at Camp Brown/Ft. Washakie. He bought buffalo robes, hides, pelts, and craftwork from the Indians, and sold and traded all sorts of trade goods. Dried fruit, tobacco, bolts of cloth, canvas, ammunition, leather goods, hats, shoes, boots, implements, hardware, candy, newspapers, coffee, canned goods, medicines and notions were all sold to both Indians and soldiers. J. K. learned well from his old boss Judge Carter, on the use of tokens to promote trade, and the similarities of the J. K. Moore tokens to the W. A. Carter tokens (page 332 of Cunningham's Military Tokens of the United States) is easily seen. It is said that J. K. also used the tokens to pay Indians for work hauling wood, or for hay, wheat and other farm products. The Indians are said to have preferred the brass tokens for gambling, and their various gambling games would often be commented on by visitors to the post trader store.
J. K. MOORE FAMILY LIFE AND EXPANSION
On a trip to Carter Station to pick up goods, J. K. met a pretty 20 year old from Fulton, Missouri named Nevada (Veda) Cornell. She had been hired by the Richard Carter family as a tutor, teacher, and governess for their 4 children. Veda's family had come from New York state. Veda and J.K. were married about 1876, and had three children by 1881, including James K. Moore, Jr., Anna R. Moore. The 1881 census also shows that the James Kerr Moore, Sr. family included a Chinese servant by the name of Wah, and a lady housekeeper by the name of Loie Doty. James Kerr Moore moved to California in 1906, where he bought 240 acres of land, he lived well into the 20th century, finally dieing in 1920, only 2 weeks short of his 77th birthday. His legacy as a family man lives on in his descendants, and he is remembered by token collectors for the brass tokens bearing his name, used on the frontier of Wyoming 130 years ago.
references: Jim Bridger, Mountain Main by Stanley Vestal; Military & Trading Posts of Montana including sites in N. Dakota, Wyoming, Alberta & B.C. by Miller & Cohen; Military Tokens of the United States, Vol. 1 by Paul Cunningham; Peddlers and Post Traders, the army Sutler on the Frontier by David Delo.
updated 22 Feb 2004