PAGE 48

By Jerry Adams, copyright © 2001

When we moved to the small town of Keller, Texas, just north of Fort Worth, back in 1987, my wife, daughter and myself all loved the small town atmosphere. We had lived in Fort Worth most of our lives, but crime near our Cowtown home had become so commonplace that we decided to sell our Ft. Worth home and move to a more rural and serene area.

HISTORY OF KELLER, TEXAS

The area now known as Keller, Texas was settled in the 1850's. The first settlement was about 2 miles north and east of the present site and was known as Double Springs. Pioneers had built cabins in the "Cross Timbers" area for a few years prior to that time. One of the first churches in the area was Lonesome Dove Baptist church about 8 miles east of Keller. The name of that Baptist Church was the inspiration for Texas author Larry McMurtry to name the book and television series "Lonesome Dove." The book and movie were also based on the local characters of Oliver Loving and Charles Goodnight. In the television movie, Loving and Goodnight were transformed into Captain Augustus McCrae and Capt. W. F. Call (Gus and Woodrow). In real life, the Goodnight-Loving cattle trail was named after the two men.
In 1852, the Lonesome Dove Church sent members to establish a church in the Keller area, and it was named Mount Gilead Baptist Church. In 1875 a man named Isaac Roberts who owned 640 acres in the area, left a parcel of his land to A. G. Roberts, who then sold right of way to the Texas and Pacific railroad for $25. In July of 1881 H. W. Wood gave 40 acres on the railroad right of way to the public to form the new town of Athol (where Keller is located today). The town name was changed within a year, to Keller, in honor of a T&P foreman. By 1882 the name Keller was written on all the land abstracts. The first train arrived about 1881 or 1882, no one is certain of the exact date. The first post office was established in 1888. Keller formed it's own school district early, and by the early 1900's had a fine school building, and a number of well to do graduates.

circa 1919 view of Keller, Texas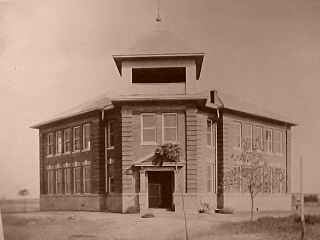 school built about 1915

By 1987 when we arrived in Keller, the population was about 13,000.

ALL I NEED IS A TOKEN FROM KELLER

A few years after moving to Keller, I found a book in the town library that was devoted to local history, and while reading the book, noticed a reprint of an advertisement for a local grocer, by the name of R. H. Knox & Sons.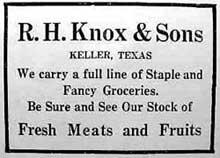 Something in the name seemed to ring a bell. Then I remembered that 20 some years ago; I had talked to a Fort Worth lady on the telephone, who had some tokens. I had written down the tokens that she had for sale (and which I did not buy for some reason), I found the piece of paper stuck in my ledger book, and she had offered an Ingle system token of R. H. Knox.
Years later, I was able to acquire a single R. H. Knox token, from a fellow Texas collector, thanks to a classified ad placed in Talkin Tokens!
The token:
R. H. KNOX / 10 IN TRADE / 10 / PAT. JUN. 1909 / INGLE SYSTEM
Brass (or copper?)– round – 21 mm diameter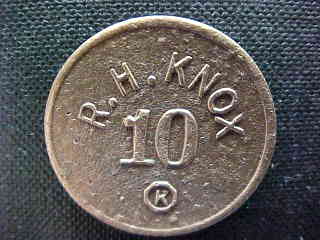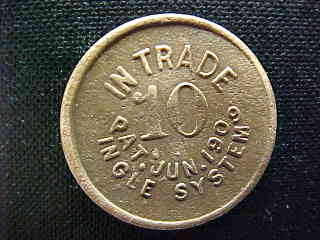 After my learning of the existence of the R. H. Knox tokens, I also found that there was a R. H. Knox grocer listed in Fort Worth. My guess was that it was the same person, and perhaps he had two stores. A token with a dual attribution for Keller and Fort Worth was fine with me.
I placed an advertisement in the Keller newspaper, asking for assistance in locating any of the tokens. I got one phone call. The call was from a lady who had worked in the Knox store in Keller, and was kin to R. H. Knox. Turns out the R. H. stands for Robert Hatton Knox. The lady also told me that he also had a store in Fort Worth on Evans Avenue, and she said she could not remember the tokens herself. Several of the kinfolk still live in the area, and she provided me with their names. The Knox family also (evidently) ran a blacksmith shop in Keller. Although it is unknown if he was in the same family, a Jasper Knox established a garage and Chevrolet agency at the corner of Main and Bates about 1913 in Keller.
So take heart, no matter how small your hometown, those mavericks you have stuck in the back of your binders, may turn out to be a historical treasure with a bit of luck and research!
Although the account of this Ingle grocer token may lack the widespread interest found in saloon token yarns, the discovery of a hometown token has been exciting to me, and I wanted to share story in print.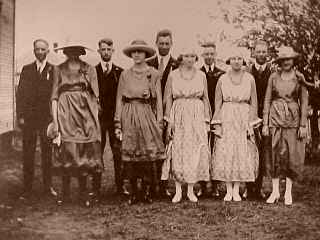 Above photo of Keller graduating class of 1920, left to right: Gordon Keller, May Johnson, Ollie Whitley, Jennie Bell Griffin, Gordon Yates, Edna Christain, Johnny Graves, Eunice Christian, James Weatherall, Margie Weaver.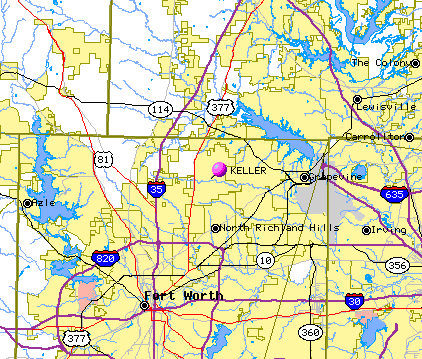 Epilogue:
Some time after this article appeared in "Talkin' Tokens", the monthly publication of the National Token Collectors Association, I was contacted by the great grandson of R. H. Knox. Here is some of what he had to say about his great grandfather:
19 March 2002
"Dear Sir, I noticed your web page about R. H. Knox. He was my great grandfather. He and his children were very interesting people. One of his best friends was a black man, and this was extremely unusual at that time. He would often spend his days wandering around the countryside teaching people to sing hymns rather than attend to his business affairs. Some of his children stayed in the grocery business after his death in the 1940's. As a child...I was able to hear dozens of stories about the Keller area from his children...and my father who spent summers there. Other places where they had stores were in Krum and Ponder, Texas, which are both, I believe in Denton Country. One of his sons...Virgil, was a WWI soldier despite his being only 15 years old at the time. Another of his sons was held up in his store (in Ponder I think) by Bonnie and Clyde, and he appears briefly in the famous film about them when they filmed on location in that very store. ....
Thanks very much,
Name withheld by this web page's author
On to page 49 of token web pages...
updated: 24 March 2002