PAGE 34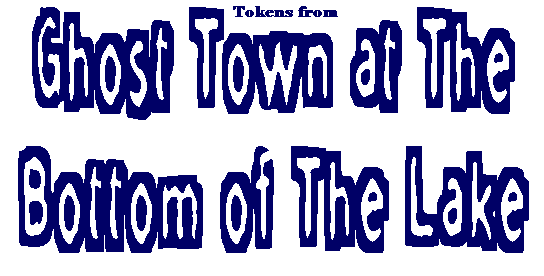 By Jerry Adams
Copyright © 1999 all rights reserved
The token:
FRANK LUGERT / 1oo / NOT TRANSFERABLE
IN TRADE ONLY / 1oo / INGLE / SYSTEM / PAT. APRIL 7TH, 1914
Nickel-round-35mm (listed by Walker in "Catalog of Oklahoma Tokens" [1978], estimated value = $10-$15; circa: 1914-1950) (other denominations listed include 1, 5, 10, 25, and 50) (These tokens are called an Ingle System tokens. Ingle System of Dayton, Ohio made tokens from about 1908 until about 1928. Most are dated 1909 or 1914)

LUGERT, OKLAHOMA-SUBMERGED GHOST TOWN
Lugert, Oklahoma is a ghost town now. The Kiowa County Oklahoma town sits at the bottom of Lake Altus (locally called Lake Lugert). Founded in 1901, the town at one time boasted a population of between 400 and 500 souls. The town was named in honor of a prominent local merchant, who was the town's founder, Frank Lugert.
FRANK LUGERT'S BOHEMIAN "ROOTS"
Frank Lugert was born to father Mathias Lugert and his wife Anna Maria Daeubl on May 31, 1869 in Leskau, Bohemia. The town is now known as Leskov, Czechoslovakia. Mathias Lugert died at age 42, leaving behind his wife and 5 children. Frank's mother decided to send him to live with his brother Joseph (who was only 5 years older) in America, in the state of Wisconsin. He boarded a ship in Hamburg, Germany in 1882 when only 12 years of age, to make the long voyage to America. He wore a sign on his front and back, that said "this boy is an orphan, must not be harmed." While Frank lived with Joseph in Wisconsin he learned about the logging industry, and began to learn to speak English.
Frank was there for the Cherokee Strip opening on Sept. 16, 1893. His preparations for the land rush were well thought out. He bought a pony especially for the occasion, and practiced each day at a racetrack in Guthrie for the land rush. He became an expert and said, "No one would beat me." His claim in the Cherokee Strip opening was a farm seven miles east of Perry. Later he sold his land there, and moved to Perry, where he worked as a bartender.
Frank had settled down in Perry. By 1895, he married Catherine Maloski, and bought a nice 2-story home. The Kiowa-Commanche-Apache land was to be opened in 1901. He recognized this opportunity and registered for the lottery at El Reno. When the numbers were drawn, he had the next-to-last number, and all the good parcels of land were gone. His luck changed, when a friend at the land office told him of a quarter section of land near the foot of the Wichita Mountains, that showed as having been filed upon, but was really open. Lugert secured a horse and buggy and traveled hard day and night. Arriving at Lone Wolf, the horses were exhausted, and he hired a liveryman to carry him the remainder of the distance to the land. Once he arrived, the fertile bottomland along the river with a fresh water spring was so beautiful, he feared he was dreaming! He was informed by that an official of the K.C.M. &O. Railroad was planning to file on the land, but Frank beat him by only a few hours in filing.
1901- LUGERT BECOMES A TOWN
The hills surrounding Frank's land attracted many types of frontiersmen. Among the settlers came escaped convicts, con men, professional gamblers and gunmen. Miners came looking for copper ore, and outlaws rode up to Flat Top Mountain to hide from the law. In territorial days, many men carried a sidearm. A friend had advised him that he would meet scores of men who had always carried a gun. He knew that showing a sidearm in that frontier area was an open invitation to a gunfight, which he could not win. This convinced him he would be safer without a gun.
Main Street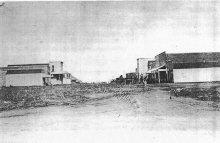 Lugert, Oklahoma
The outlaws who hid on Flat Top Mountain would hide their stolen cattle and horses in a blind canyon near there. The town of Lugert was the most convenient place for these outlaws to acquire supplies. Most times they would wait until well after dark, or the early morning hours to visit the Lugert store. Mrs. Lugert would always get up and fix the outlaws a hot meal, and they were never charged for meals. If some of them were unable to pay for supplies, Frank would let them have the supplies anyway. He explained that they were neighbors, and he always believed in helping his neighbors. The outlaws generally didn't make trouble, as they knew when they had a good thing. One time several rough looking armed men came into the store, and demanded something to drink. Frank told them he did not have any liquor in the store, and the best he could do at the moment was the patent medicine "Hostetter's Bitters" which was 70% alcohol. His ploy worked, and the men left with several bottles of bitters. The toughest men always warmed to the kind amiable nature of the Lugerts.
Interior of Frank Lugert's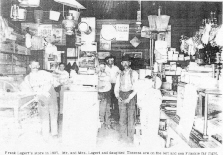 Store, circa: 1907
The miners in the hills were looking for ore, and some were looking for buried treasure. Frank never tried the mining in the foothills himself, although he did grubstake some of the miners, but this never paid off.
THE HEYDAY OF LUGERT, OKLAHOMA
Between 1901 and 1912, the future of Lugert, Oklahoma looked bright. They had a railroad, fertile land and plenty of fresh water. Many new businesses located there. Besides Frank Lugert's store, there were Borden's Feed and Grocery, the Noah Hanger meat market, the restaurant operated by Mr. and Mrs. England, the Howard Arnett Lumber yard and Ed Hodson the town blacksmith. In addition, there were the Stanaland and Houser Dry Goods store, the Garrison Dry Goods store, F. E. Gillespie's Western Oklahoma Gin, the Smith Hotel, the Lugert State Bank with A. Garner as president, and a pool hall which also served as a dance hall.
1912 – THE LUGERT TORNADO
On April 27, 1912, at about noon, the hot and sultry morning gave way to a gathering storm, rising out of the southwest. Thunder and lightning signaled the approaching clouds. Just as the noon train was entering the northern portion of Lugert, a large tornado struck. The entire town was flattened within a few minutes. The ruins were then drenched by torrential rains. The winds of the twister had not only demolished the town, but also moved most of the railroad cars except for the caboose and one or two boxcars which remained on the tracks. The town was a total loss, and never rebuilt to its former glory. The town doctor was among the residents who left after the tornado, despite Frank's attempts to persuade him to stay.
Exterior view of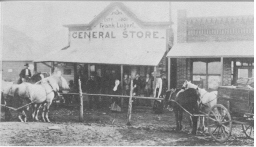 Frank Lugert's Store
When Lake Altus was constructed, the store building was moved to higher ground, along with some other buildings and houses. Tourists would come through in the early fifties, and buy pictures of the Lugert railroad station with the name Lugert on the front. The post office was closed in 1950. The store closed in the winter months, and then finally closed for good.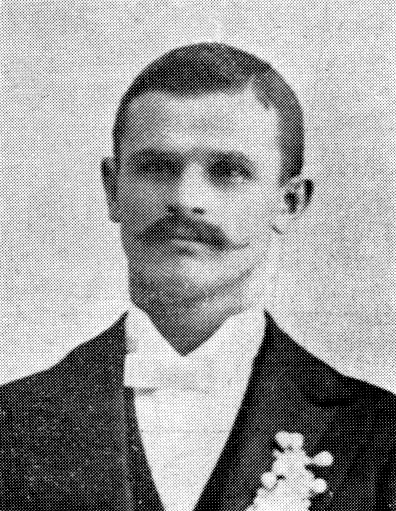 FRANK LUGERT-THE MAN
Frank and wife Catherine had three daughters, Margueritte, Theresa, and Leona and his only son, Frank Lugert, Jr. His broken English was self taught but understandable, and highlighted his old-world origins. He was proud of his roots, and with a little prompting would smile and tell stories of hunting wild boar, logging in Wisconsin, or early days in Indian Territory.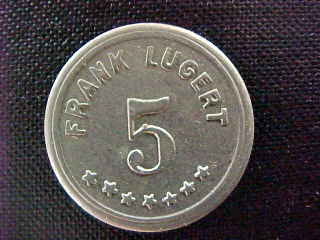 THE USE OF TOKENS
The (Frank) Lugert Store was a "general store" and dealt in the staples of the day. The following is an list of actual items that were for sale in the store: prospectors' supplies, groceries, dry goods, boots, shoes, books, school supplies, patent medicines, guns, ammunition, blasting supplies, pictures, hardware, stoves, pots and pans, dishes, tubs, washboards, well buckets, pumps, harnesses, axes, hoes, picks, meat, cheese, cracker barrels, cold drinks, cookies and candy. In addition, the post office was in the store. The tokens are the 1914 Ingle System types, being issued after the tornado in Lugert. The typical usage for tokens in a general store such as this, were to pay farming families for goods, such as eggs, milk, cheese, fence posts, etc. They were also used to extend credit, which simplified bookkeeping. Frank Lugert and Mark Sauerberg jointly operated a liquor store southwest of the business district of Lugert, and it is possible that the tokens were used there. (The liquor store / saloon was in business sometime between 1901 and 1905, predating the 1914 date stamped on the tokens, but there remains the possiblity that some liquor was available to locals after the 1914 date)
EPILOGUE
In spite of the hardships of his life, Frank Lugert was a man who was proud of his accomplishments, and his family. He struggled to overcome not only the early death of his father, but his only son's death in 1946. Being sent to a strange land at age 12, and dealing with the uncertainties of frontier life had made him all the stronger. In Frank's own words, spoken to a reporter in 1951, he "lived here 50 years, don't owe anyone a cent, and have raised a good family, and they are all doing well." Frank Lugert died on September 1, 1958, and is buried at Fort Supply, Oklahoma.
References: correspondence with Mrs. Danette Steward (Lugert) (great great niece of Frank Lugert); "Kiowa County Star Review" Aug. 2, 1951; Vol. 1, Hobart, Okla. Historical Society; correspondence with Johnny Satterlee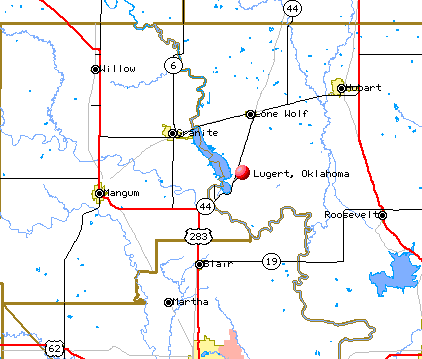 Go to Page 35 of our token web pages
updated: 24 sept 2006