PAGE TWO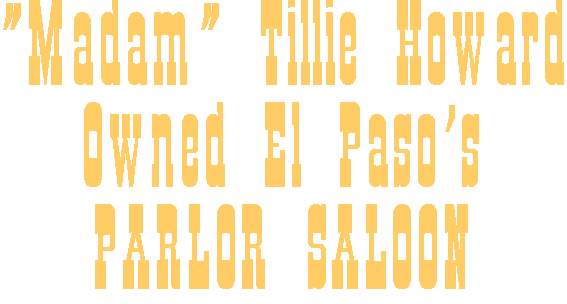 by Jerry Adams copyright © 1998, all rights reserved
El Paso Court House / (COURT HOUSE) / (STAR)
Good for 1 Drink At The Parlor / EL PASO, / TEX. / (CHURCH) / OLD CHURCH AGE 270 YEARS / PASO DEL NORTE MEX.
German silver-round-33mm (estimated value: $60 )(a second token in aluminum has slightly different wording, see bottom of page for aluminum token photos)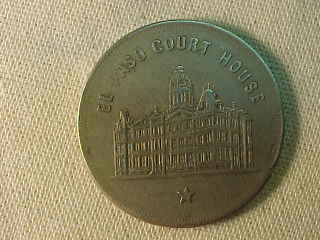 This token is listed in the 1973 Texas TAMS supplements by Fowler, Strough and Roberts, along with a second aluminum token with slightly different wording. George and Melvin Fuld list the token in "Token Collector's Pages", attributing the diework to Heidemann Mfg. company of San Antonio. "American Business Tokens" the 1972 reprint of the 1898-1900 listings by B. P. Wright, does not list this token .
In 1903, the operator of the Parlor Saloon was a well know saloon keeper and piano player whom everyone liked; a big man, with a handsome face and genial disposition, named George Ogden. George had red hair and large mustache, and was well liked by the local ladies. However, the actual owner of the Parlor was a woman who was known as "Tillie Howard".
Tillie Howard, was a madam. She was one of the "big five" madams in El Paso's early days. Her real name was Mathilde Weiler, and she was born about 1869 in Wisconsin to German parents. Her mother died when she was born, her father died some three years later. She had several surviving uncles and cousins, but was given to a neighbor family who expected her to work like a hired farm hand to earn her room and board, then beat her when they suspected she was loafing. By the time she was twelve, Mathilde could take no more, and she ran away. Picked up by a Wisconsin Central freight train, she was "adopted" by the railroad workers whom she lived with for several months. After some time, she went off with Sells' Circus, and a Mr. Willie Sells who was a trick rider. At some point she parted ways with Sells, and after a stop in San Antonio, came to El Paso with quite a bit of money. In 1892, she set up her first "house" in El Paso. She was twenty-three years old. The house she bought on Utah street in 1892 cost $2,200, which was a very large amount of money in those days. Tillie, as she was known by then, was young, beautiful and had good understanding of men and what they wanted. She and her boarding house were soon famous across west Texas, New Mexico, and into old Mexico.
Tillie ran a high class house, paid her "girls" a straight salary, as she believed that it kept them honest. She allowed no loud talk, no vulgarity, and the girls were not allowed to get drunk.
Tillie's life was a variety of travel and high living, she left El Paso several times for various destinations. About 1896 she left for Kimberley, South Africa, and set up a "House" there, where she reportedly made upwards of $400,000 in a year, and in 1897 came back to El Paso, by way of Egypt, Italy, Switzerland, Germany, England, and Scotland.
Tillie's Parlor house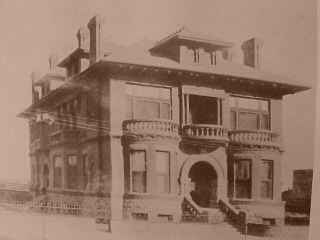 on Utah Street
Upon her return to El Paso, the first thing she would do was build the best parlor house in town. The two story house she built at 214 Utah street was complete with eight chimneys, a solid copper roof, balconies, arched entry, four parlors on the first floor, a basement, oriental carpets, fountains, coach house and the finest appointments. It was complemented by Aunt Sallie, the maid, and a butler and a coachman. Tillie herself traveled in a fine buggy pulled by a horse appropriately named "Rowdy". The house was built about 1899, and Tillie sent out 1,500 engraved invitations to the grand opening to a select list of citizens.
Tillie Howard and
her horse "Rowdy"
In the next few years she traveled to the Hawaiian Islands, and San Francisco. In the early 1900's, Tillie met George Ogden, the red headed saloon keeper, and their relationship became so close that many old timers in El Paso, will tell you that they were married. Tillie bought the Parlor Saloon and set up George Ogden there, by 1906, George was running the Bank Saloon on San Antonio street (which also issued a token).
Tillie developed a uterine tumor , and by 1910 was very ill. George Ogden was in financial difficulties, and Tillie again came to his rescue, setting him up once more in the Parlor saloon on the corner of San Antonio and El Paso streets in 1910. Miss Tillie was attended by capable doctors, but they could not save her, she died on the eighth of April, 1911 at the age of 42. She left an estate of about $15,000 and in her will named George Ogden as executor, which was contested by lawsuit by two of Tillie's cousins. The cousins lost, and George Ogden left town within a year with most of Tillie's property. All that remained was an old scrapbook she had pasted photographs and clippings in for years which was left to her physician. The scrapbook still survives to provide a glimpse into her amazing story.
Was it merely a coincidence that the saloon she owned was named "The Parlor"? Was there any significance to the fact the token pictures the El Paso courthouse on one side, and the old mission-church on the other? Miss Tillie true to her "profession" , will never tell.
references: "Pass of the North" 1968 by C. L. Sonnichsen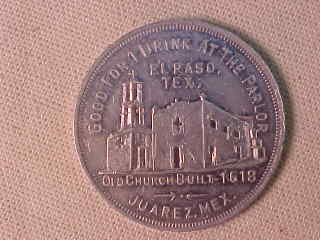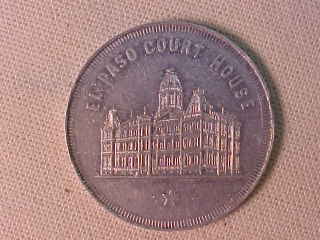 on to page 3 of our token web pages...
updated 5 feb 2000