PAGE 17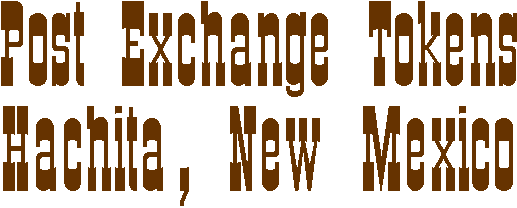 By Jerry Adams

Copyright © 1998

In memory of John Ribbe

The Tokens:

POST EXCHANGE / U. S. TROOPS / HACHITA, N. MEX.

Good for / 25¢ / in trade

(Brass, round, 25mm) [ Cunningham NM190c]

[ circa 1916-22] [ estimated value: $35]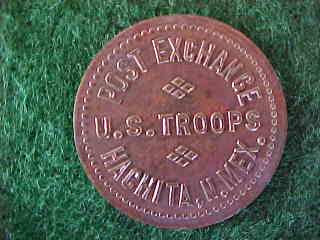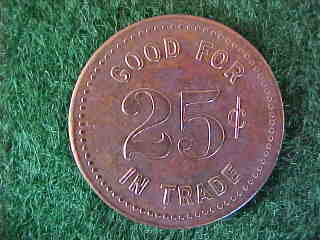 POST EXCHANGE / U. S. TROOPS / HACHITA, N. MEX.
Good for / 5¢ / in trade
(Brass, round, 20mm) [ Cunningham NM190a] [ est. value: $30]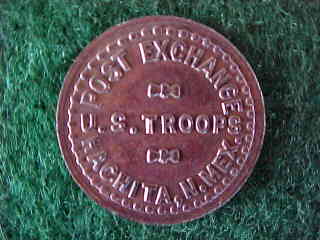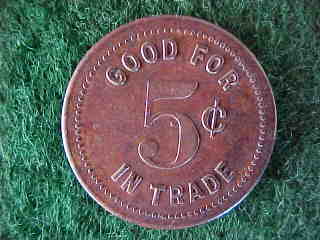 POST EXCHANGE / U. S. / TROOPS / HACHITA, N. MEX.
Good for / 10¢ / in trade
(Brass, scalloped 8 lobes, 19mm) [ Cunningham NM190b] [est. value: $40]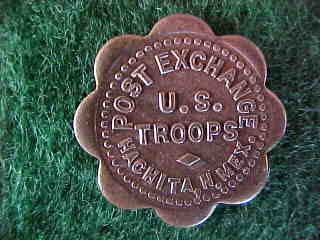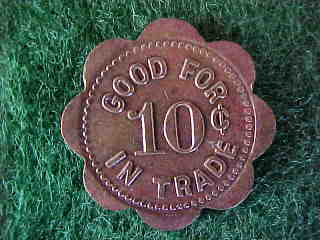 Also listed by Cunningham:
NM190d, the 50¢ denomination of the above set of tokens.
The Hoard
About July of 1995, advertisements were place in ATCO, by Paul Russell, telling of his discovery of a hoard of these post exchange tokens, and offering to sell them to collectors. I recently contacted Mr. Russell's son, and found that Mr. Russell had died in June of 1996. He told me that he helped his dad dig out the tokens at Hachita. He called the hoard "the find of a lifetime". The tokens were discovered with a metal detector. It took them four hours to dig out the tokens, and many long hours to clean them. Altogether there were over 2,800 tokens, and with them were found a 1914D dime and a 1912 penny. This would seem to help establish a "not earlier than" date for the tokens. Also found was a 12th Calvary Troop token. According to the younger Russell, the tokens were dumped in the early 1920's.
Before his death in June of 1996, Mr. Russell sold the remainder of the hoard to a man in El Paso. When and if the remainder of this hoard is released, the prices on these tokens may drop further.
Hachita, New Mexico
Hachita, New Mexico is in Grant County in far southwestern New Mexico, about 50 miles west of Columbus. A small mining camp in the Little Hatchet Mountains of New Mexico came as a necessity in 1875. Local miners of silver, copper and lead needed a place to buy supplies. By 1882, the town had a post office, and by 1884, the population had grown to 300 persons, not bad for a remote mining camp. Local business included three saloons, two general stores, a smelting works, and several mining companies.
By the 1890's, Hachita was on the decline, and when the railroad tracks were laid nine miles east of town, a new settlement on the tracks took the name of the original town, Hachita, and from then on the old town was to be known as "Old Hachita". The post office moved to "new" Hachita, and so did most of the residents.
Military Operations in the Area
In 1914, Pancho Villa and several thousand followers were battling the army of Mexico's president Venustiano Carranza, and compounded the struggle with cross border raids, to steal cattle and plunder border towns.
Pancho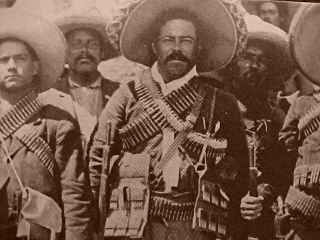 Villa
In the winter of 1914 and the spring of 1915, United States troops were sent to man the area around Columbus, N.M., to prevent Pancho Villa and his Villistas from cross border raids. On March 6, 1916, an early morning attack on Columbus, N.M. surprised 350 U.S. troops just before 1 AM in the morning. A total of about 500 Villistas fought the U.S. troops, who brandished Springfield rifles, and Benet-Mercie machine guns. Some 20,000 rounds of machine gun fire were spent in the battle. Portions of Columbus were burned by the Villistas, and a total of 8 American soldiers, nine civilians, and around 100 Villistas were killed. Some prisoners were taken and tried in court. Over the next 11 months, General "Blackjack" Pershing and 4,800 U.S. troops used Columbus as headquarters for the "punitive expedition" against Villa.
Hachita,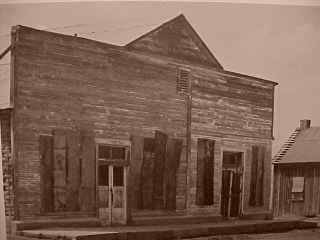 New Mexico
Elements of the 7th, 10th, 11th, and 13th cavalry and 6th and 16th Infantry regiments entered Mexico. By 5 Feb. 1917, all the expedition was back on American soil. In 1919, some 5,000 U.S. troops were still stationed near Columbus, but by 1923 the numbers were down to only 60 troops. Hachita, N.M. was supposedly the base for elements of the 12th cavalry, and the 24th infantry at the time of the punitive expedition.
Reference: 1) personal letters from Paul Russell, Jr. 2.) Ghost Towns and Mining Camps of New Mexico, by James Sherman 3.)undated clipping from Numismatic News
on to page 18 of our token web pages....
updated : 5 feb 2000