PAGE 13

by Jerry Adams copyright © 1997
There are as many ways to research tokens a there are kinds of tokens, but certain ones seem to work for me. One of the basic ways, of course is to use one of the many books published on tokens, which range in subject from states from Alaska to Florida, or types of tokens such as bi-metal tokens, lumber, coal and military tokens.
A second easy research method is through period listings such as Dunn and Bradstreet, city directories, and business directories. Many are available at large public libraries or university libraries. I like to keep photocopies at home of the ones most used.
Another group of research materials, such as CD-ROM phone books, social security death indices, census records, census index records, tax records, produce less information than what I usually want.
One research method is not as sure-fire, nor easy, but sometimes produces results. I write down all the information on a token, and look at a map or atlas and determine the county in which the town is located. Armed with this information, I visit the public library's genealogical section, where all the county histories for the entire country are shelved by state and county. I find as many books on that county as possible and pore through them looking for the merchant in question. I have had some great success doing this, including finding portrait photographs of pre-1900 merchants, and photographs of stores of merchants. I have also found copies of advertisements for merchants within these county histories.
One particular token I researched using these methods was minimally successful, but reminded me of the old axiom " leave no stone unturned". In 1991, I bought a Brunswick-Balke brass token with the name N. L. Major., and below that the town and state: Gordon, Tex.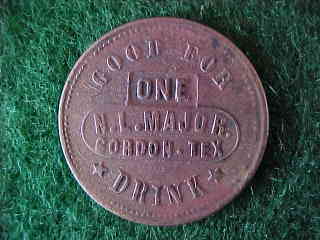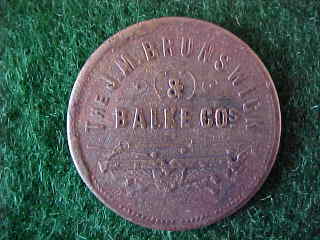 I knew that being a Brunswick-Balke token, it should date approximately from 1874 to 1884. It was not listed in any Texas reference book, but was listed as L. N. Majors (not N. L. Major) in the 1884 Texas Gazetteer. I knew that Gordon, Texas was in Palo Pinto County.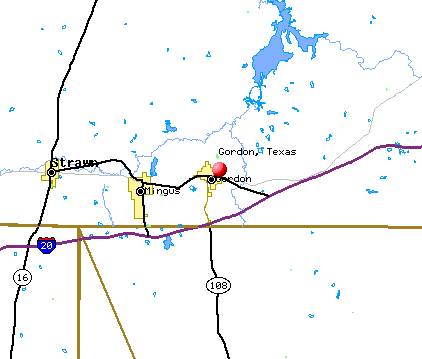 My trip to the Ft. Worth public library's genealogical section yielded several books on Palo Pinto county history. I learned that Gordon, Texas was named for H. L. Gordon, an engineer on the T & P railroad during construction in 1880. I learned Gordon, Texas was closely tied to the nearby coal mining towns of Thurber, Strawn, Lyra and Mingus. But, I found no references to N. L. Majors, the saloon keeper, and was about to give up, when I decided to try the cemetery listings. For those of you who may not be familiar with genealogy, there are books of listings of tombstone name inscriptions with dates, usually compiled by a local historical society. Sure enough, in the old Gordon cemetery, there was a listing for N. L. Majors, listed as died on 26th of June in 1890 at age 27. Assuming that it is the same person, he would only been about 21 years old in 1884 when his saloon was listed in the gazetteer. Perhaps someday, more information will surface on this early saloon.
on to page 14 of our token web pages...
updated 5 feb 2000