PAGE ELEVEN

by Jerry Adams , copyright © 1998

the token:

KLEINSCHMIDT'S BAKERY

same

brass-round-22mm (listed in Feisel's parking token book as #Unat 3009)

(Ft. Worth, Texas) estimated value ($2 -$10)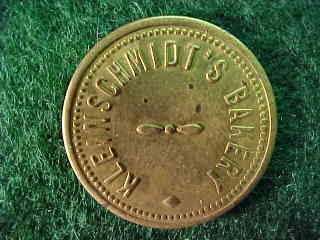 This fairly mundane looking, not very exotic piece of exonumia is a parking token which was used in the 1950's by patrons of Kleinschmidt's Bakery on West 7th Street in Ft. Worth, Texas. They were evidently given to customers, in order to exclude parking by movie-goers at the Seventh Street Theater.
The most popular bakery shop in Ft. Worth in the 1950's and early 1960's was Kleinschmidt's Bakery. The location alone was almost enough to make any business a success, it was situated on West Seventh street, just west of the multi-street intersection of University Drive, Camp Bowie Boulevard and West 7th. On the east, the bakery was flanked by the Seventh Street Theater, which was one of the top movie houses in town, and just to the west was "Carnations", which was the most popular hamburger and shake restaurant on the west side. The location was also about half a mile from the Will Rogers complex and the museum district.
In February of 1975 I saw the Kleinschmidt's Bakery maverick token listed in "Feisel's Catalogue of Parking tokens of the World", and immediately suspected it was from the local bakery. I could remember the gated parking lot behind the bakery. The next weekend I made a point of visiting the shop and asked Mrs. Kleinschmidt if they had used tokens for the gated parking lot. I was happy when she replied with a "yes", and my next question of course, was if she had any of the tokens left. She said there might be one or two in a box at home, but none at the store. The next week, I returned to the bakery, with a self addressed stamped envelope and a dollar bill. I told her I collected Ft. Worth tokens, and would very much like to have one of their tokens in my collection. I asked if she could find one, and if she would take a dollar for it, just mail it to me in the SASE and keep the dollar. If she couldn't find one, she could mail the money back. She took the envelope and dollar, and promised to look for one of the tokens when she got home. Three days later I received my SASE with their return address in the corner. Upon opening the envelope, the Kleinschmidt token dropped in my hand. I was elated!
Henry L. Kleinschmidt was born in Little Rock, Arkansas, the sixth of seven sons born to a German immigrant couple. His father was a well respected saloon proprietor in Little Rock, and the German couple imparted an honesty and thrift to all their sons. Henry's father wanted the best for his children, and Henry attended a parochial school.
While still in school, Henry got a part-time job on weekends at Regler's bakery on Main Street in Little Rock. His first day at work was Saturday the 16th of November 1918. He worked as a pan scraper for ten hours and made 75¢. He continued to work part time at the bakery until he finished high school, and worked his way up to a baker. While hanging out with his friends at Walgreens drugstore, he met Thelma Volpert who worked there. Soon they started dating and fell in love. Eventually Thelma and Henry decided to move west to Ft. Worth, Texas, Thelma had a job lined up at Walgreens, but Henry had a hard time finding work. They wanted to hold off getting married until they were more financially stable. The year was 1931, and the country was mired in the Depression. After much expenditure of shoe leather, Henry landed a job at a bakery on the south side, then he and Thelma drove over to Dallas and got married one weekend.
The couple found work when and where they could, like most in that era; Thelma's job was transferred to San Antonio for a while, Henry had to move to Tulsa for several weeks to attend a bakery school. One or the other always drove to see their spouse on weekends. Henry wanted to open his own bakery, and he noticed that the old Safeway store at Hemphill and Berry streets had two bakery shelves that sold out each day. After he and Thelma talked it over, they decided to open a small bakery on Hemphill street just off Berry on October 3, 1938. Thelma was definitely the one with the business sense, and she would always sit at the cash register at the front of the store. Henry, or "Henie" as his friends called him, handled the baking. The aromas from the shop were so enticing, they would often sell everything Henry would bake. Thelma gave up her job at the drugstore to work full time at the bakery, and business was good enough that they purchased a house on Libscomb street in 1944. That same year, Henry Jr. was born.
After World War II, Ft. Worth was growing and Henry wanted to move the shop, although the business was doing fine where they were. Some called him "that crazy Dutchman" for wanted to move a successful business. The west side of Ft. Worth only had one retail bakery, the Blue Bonnet Bakery on Camp Bowie, and Henry thought it was due another. Thelma and Henry opened the "new" Kleinschmidt's Bakery at 3130 W. Seventh Street in August of 1947.
The flood of 1949 came into the bakery, but the water was only about six inches deep in the store. After the water receded, Thelma showed her positive attitude and got the bakery back to normal within days. The Seventh street location of Kleinschmidt's became an institution in Ft. Worth. People from all over town shopped there for their expertly decorated cakes, the wonderful cookies, exotic breads, savory eclairs and breakfast pastries. Mrs. Kleinschmidt would always sit at the cash register near the front of the store. After Henry Jr. ( known as Larry) was older, he worked some in the bakery behind the counter. Larry also got a business degree from TCU, served in Vietnam, and studied at the Dunwoody Institute in Minneapolis. He returned to work full time in the business in 1969. By 1971, Henry and Thelma turned the business over to their son, but both continued to work there.
Thelma Kleinschmidt died in 1978 at age 71, and Henry stayed on at the bakery working until shortly before changing times and declining business forced the bakery to close. The competition from local supermarket bakeries was too much.
on to page 12 of our token web pages.....
updated 5 feb 2000